I had been looking forward to attending the Mackinac Island Lilac festival this last Father's Day, which happened to be the final day of a ten-day event. My wife, daughter and I had a near ethereal time last year as the island was completely engrossed in glorious lilacness. Mackinac, which normally smells like fudge and horse manure, was momentarily filled with the most wonderful of spring flowering scents. However, due to the unusually warm weather we had early this year the blooms were a bit of a bust by the time we arrived on the island.
I had a sinking feeling that this was going to be the case when my sister sent me a picture of a beautiful lilac tree in full bloom about a month before we would be there. This did not bode well for me. My wife assured me that it would be fine, but I think she just said that so I wouldn't spiral out worrying about flowers, again. In my heart I knew it was not going to be the enchanting spectacle that I had envisioned. Before I even left my driveway, I felt like I wasn't going to write a story about the festival. 
If you ever find yourself driving up to Mackinac, you might discover that you would like to stretch your legs at some point of the journey. May I suggest that you take that opportunity in Midland, at Dow Gardens. The gardens are conveniently situated at about halfway between Detroit and Mackinaw City, give or take a half hour. Aside from the normal botanical garden scenery, Dow also offers an amazing canopy walk that happens to be the country's biggest, at 1,400 feet long, and 40 feet up! You can't help but feel like an Ewok. I mean it. That is the pervasive feeling I get every time I am walking on the thing. There are also tranquil strolls along a meandering stream, and several "secret" gardens hidden amongst the wooded area. If you are really looking to rest, they have a nice café that looks out onto a very nice playground for the kiddos. As always, Dow Gardens was a beautiful break from the road trip up north, but I was nagged by the feeling that the festival we were heading up to was not going to be worth writing about.
---
Although I love to cook, and almost exclusively do so for my family, I would not consider myself a food critic. I will, however, make an exception for our first "meal" in Mackinaw City.
On the main thoroughfare of the town there is a rather imposing looking restaurant with a giant sign called "Nona Lisa's". We figured that an Italian style place would probably have something fairly decent and something our six-year-old would like. We were wrong. So very wrong. I can safely say that the best part of this place is the excessive taxidermy. I have truly had better Italian food out of a can.
It's never a good sign when your food comes out in less than ten minutes. I had ordered something called "the tour of Tuscany" that consisted of fettucine alfredo, chicken parmesan, and lasagna. I imagine that the chicken is one of those situations you see on the show Kitchen Nightmares where the owner admits to going in on a Sunday afternoon and cooking up a whole week's worth of the dish and then badly storing it in the walk in. Seeing that we were there on a Saturday night, this would make sense, judging by what I ate. As for the rest of the "tour", the fettucine noodles were oddly overcooked for how quickly the food came out, and I was unable to eat the lasagna after a small bite. As soon as I had finished, I wasn't sure if I was going to be horribly sick or just have the worst heartburn of my life.
I get that it's a tourist town and everything is overpriced – and this meal was severely overpriced – but it should at least be edible. What was maybe worse than the food itself is that there was a giant plexiglass wall in our section that offered a view into the worlds most apathetic kitchen. At first I thought it was funny that they decided to show this off, until what seemed like maybe the dishwasher came over to where the cooks were and leaned against one of the counters for a solid ten minutes while he stared me down with a look on his face like he wanted to fight.
At this point, between the food and the atmosphere, I felt like I was eating in a log cabin themed prison. The thing that got me the most about this place is that there were several 5-star reviews for it on Yelp, declaring it the "greatest Italian food" they had ever tasted. I could only believe that to be true if somehow you were getting yours exclusively from the pet food aisle. 
---
We got on the ferry over to the island the following morning. The ticket seller at the docks confirmed what I was fearing and informed me that the lilac blooms had already seen their peak. When we arrived at the island, it didn't have the same intoxicating aroma of the previous year and the blooms were gone or fading on most of the trees.
At that point we decided to rent bikes and circumnavigate Mackinac instead of looking at all the semi disappointing trees. Riding around the island offers some of the most amazing views that Michigan has to offer. We were absolutely gifted with perfect weather while we were there and took full advantage of it. It is about eight miles around and there are several points along the way to stop and have some fun side adventures.
We stopped at the staircase to arch rock and walked the two hundred some steps to get up to it. It's not as bad as it would first seem and you get up there before you know it, and again, amazing views! After we took some obligatory tourist photos at the arch, we decided to wander off on a hiking trail into the woods. There is something about walking through the fauna of a wooded area that makes you feel at peace. I know that sounds cliché but sometimes we find ourselves in cliché moments and all you can do is enjoy them.
While we were eating a snack along the trail, I found some pretty yellow flowers and was wondering what native species they were.  I used my identification app and was surprised to learn that they were Hawkweed, a part of the sunflower family and indigenous to Europe. It's funny that even out in the woods, we are surrounded by foreign plants that we have imposed on this land. I realize that this was an odd thing to think about on a trip that was taken to see lilacs, that are a famously foreign plant that colonists brought over in the 17th century. I started wondering if we are ever really out in "the wild" or we just find ourselves in more overgrown, out of the way gardens sometimes. 
Whenever we go to Mackinac, we always find ourselves heading over to the Grand Hotel to see their "secret garden" in the wooded area between the shore and the main garden. There is always a marvelous display in a clearing that changes seasonally. Last year at the festival, the tulips were all still in bloom on the island and there was a beautiful "river" of them running underneath a decorative bridge. When we visit later in the summer, the tulips are usually replaced by another decorative annual. For the first time, I found myself in the transitional period between the two. Where there was normally such amazing color, there was the disappointing sight of a dirt river. Luckily, the giant globe alliums were in their Seussian prime and that made for a bit of a condolence prize.
---
On account of it being the final day of the festival, there were some eclectic performances in Marquette park that sits in front of Fort Mackinac. We were treated to musical concerts by a bagpipe core from Lansing, and a "clown" band. The latter really should have been called a "silly dressed" band, but hey, maybe I'm just being super picky about what constitutes a clown. It could be that I'm some sort of a clown purist and I just need to relax a bit. There was, however, what I would consider to be a real clown making balloon animals, so I should be satisfied with that. 
The festival ended that day with a lively parade that travelled down Main Street for a very enthusiastic crowd. I'm really funny about parades. I really enjoy watching Macy's Thanksgiving parade on television. In fact, during the month of November, I enjoy watching classic Macy's Parades on YouTube. I specifically have a soft spot for the 1980's. That said, normal parades don't really do anything for me. There tends to be too much waving for my tastes, and I find the lack of large-scale floats, balloons, and Broadway numbers disappointing.
About hallway through, I convinced my family to duck into the Pink Pony for some whitefish tacos and incomparable views of the lake. It seems that every time we find ourselves there, I am wearing a pink shirt. I'm not sure if wearing pink all day draws me there, or I just wear a lot of pink, but it always feels like I dressed up special for dinner. As always, the food there was incredible, and more than made up for the previous night on the mainland. 
It is worth mentioning that earlier in the day I did find a large lilac bush that was still in it's beautiful scented glory. There were a large number of enthusiasts hanging about it; taking pictures and breathing in its intoxicating aroma. Finding this bush was like running into a favorite celebrity. It was really having its day in the sun, literally. 
Next year, I am determined to catch the lilacs at their peak. I have to rethink my timing and head up for the opening ceremonies. I hear there is a coronation of the lilac Queen that day, and who doesn't love royalty? The thing about Mackinac Island is that even when it's not what's expected, it still is a magical place where I relish in childhood memories while making new ones with my wife and daughter. Which is definitely worth writing about. As much as there is a gardener instinct to want to control nature, we ultimately can't, and just have to roll with it. In the end, I had a perfect day with the perfect people. The lilacs will be there next year.
___________________________________________________________________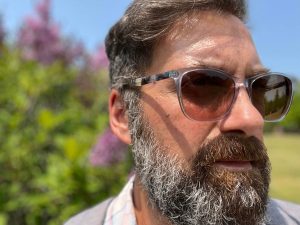 Jamiel Dado is passionate about plants and wants to spread his love of gardening to anyone who will listen.
Photo of Main Street, Mackinac Island (10 days prior to Jamiel's arrival) by Mari Dado.