Book Guide | March 2023
This month we take a look at three works that, at first glance, might not seem to have much in common. But, The Metropolitan is here to tell you, the parallels are there if one knows where to look.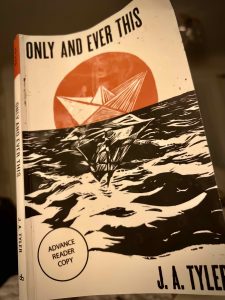 ONLY AND EVER THIS 
by  J.A. Tyler
Very excited to introduce Only And Ever This to our audience. We received an advanced copy by Dzanc Books and Publishers Group West, and have been swept away by the dark prose of its author.
The description of J.A. Tyler's lyrical work, found on the back cover of our copy, reveals the following: A mother clings to twin sons, desperate to keep them from becoming their father, a pirate forever sailing away. In this rain-soaked township, she will attempt to mummify them, piece by piece, to stop them from growing up, a hope founded in magic and immortality. Meanwhile, their father obsesses the seas with his own belief in ever-lasting life, learning too late that his heart belongs on shore. In Only and Ever This, a family must endure father loss, a mother's grief, and roiling adolescence, slipping as it does into arcades, caves, and the young love for a ghostly girl up the street.
Inside are passages such as, Our father's arms are strong, his legs taught, his heart solid, though his words are holes. When we say, 'we love you', he doesn't say anything back. Those are the failings of Our Father's language. His lips and breath and tongue won't make the shapes.What we don't know is that Our Father longs for a buccaneer to snip away his tongue, so that he'll be freed of obligation to words. Tongueless, his silence would be revered instead of hated.
Not sure we can add much more to convince you of this read. J.A. Tyler is a writer with an authentic fingerprint. And, the world he has created in Only And Ever This is a haunting thing of beauty.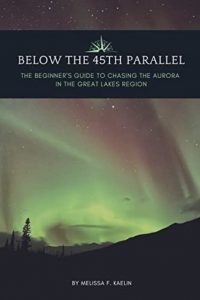 BELOW THE 45TH PARALLEL | The Beginner's Guide to Chasing the Aurora in the Great Lakes Region
By Melissa F. Kaelin
Did you know there was a thing known as the Aurora Borealis? Visible every night near the Arctic, these Auroras or, Norther Lights, as we in the scientific community sometimes call them, are dancing waves of natural light caused by disturbances in the magnetosphere, which are caused by solar winds, which in turn are caused by something else. In layperson's terms, ionization and excitation of atmospheric constituents emit light of varying degrees of color and complexity.
Anyway, the Founder of the Michigan Aurora Chasers, Melissa F. Kaelin shares her enthusiasm with the phenomenon in her book, thus helping others to find, understand, and celebrate the elusive lights.  Filled with useful scientific charts and graphs, maps and indexes, this 52 page resource guide may be the only reference you need to chase and encounter Auroras in the Great Lakes Region.
Recommended by friend of The Met, Mari Dado, whom also recommends Mama Mia Pizza – located above the 45th Parallel in Mackinac City, Michigan – for its corn meal crusted pizza and 1950s documentary on the making of the Mackinac Bridge; screened exclusively above the pizzeria in their museum and screening room.
  Below the 45th Parallel is a work of love, dedicated to every Aurora Chaser who has helped the author "learn the art of the chase".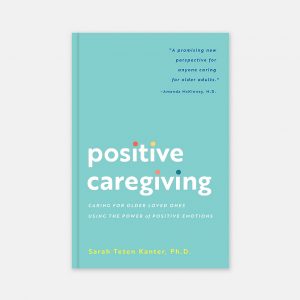 POSITIVE CAREGIVING: Caring for Older Loved Ones Using the Power of Positive Emotions | By Sarah Teten Kanter, Ph.D.
New Book Flips the Script on What it Means to be a Caregiver
The overwhelming narrative in the U.S. is that caregiving for older adults is a burden to bear and a problem to be solved. In her new book, Positive Caregiving, Sarah Teten Kanter, Ph.D., offers a different perspective and a practical methodology that combines elements of positive psychology, mindfulness, reminiscence therapy, and lifestyle medicine to help make caregiving and care receiving a more positive and meaningful experience.
"For many of us, giving and receiving care is inevitable – not an if, but a when. Positive Caregiving offers an approach to caregiving that can help make it a time to savor and an opportunity for personal growth," says Teten Kanter. "Throughout my years of research, I have discovered that most often the person who needs the most support in adjusting to the reality of caregiving isn't the person who is ill, injured, or adapting to new age-related changes, it's the caregiver."
Positive Caregiving walks caregivers through four pillars of Positive Caregiving: Perspective, Savoring, Reminiscence and Growth to help readers better understand the opportunities that caring for a loved one provides. At the heart of the book is an extensive list of simple activities, conversation-inspiring questions, and self-care practices designed to immerse caregivers and their care partners in gratitude, empathy, forgiveness, love, and awe.
"These five positive emotions are central to caregiving relationships," says Teten Kanter. "Plus, they have been shown to help improve health, reduce stress, and create meaning in daily life."
Positive Caregiving focuses on the emotional journey and personal growth inherent in the caregiving experience, helping caregivers embrace, celebrate, and honor this critical role in modern society. And while geared towards family caregivers, the book is also valuable to anyone who works with, and cares for older adults.
"An important part of this book is encouraging the caregiver to take care of themselves, so they can offer care from a loving and generous heart-center. It is a beautiful marriage of science and compassion to help provide practical guidance to people during what can be a challenging time in their lives." – Nancy Delay, Ph.D.
About the Author
Sarah Teten Kanter, Ph.D. is on a mission to help people embrace the gift of growing older. She is the founder and CEO of Positive Caregiving, a software and services firm focused on making caregiving and care receiving a positive experience and an opportunity for personal growth. She holds a doctorate and a master's degree in gerontology from the University of Nebraska-Omaha.