Never Deny Oneself Any Of Life's Earthly Pleasures…
Founded in 1718 by French Canadian naval officer, Jean Baptist Bienville, the French Quarter endures with street names from the ancient regime – Bourbon and Royal – and a city named for Regent Duc d'Orleans. Centuries later, the Quarter has grown with the cultural layers of African, Cajun, Creole, Italian, German and Spanish immigrants, making its food and musical heritage unique in America.
Day 04 ~ We awoke in a comfortable bed with slight hangovers from consuming food and drink morning, noon and night. New Orleans is an epicurean town and we certainly tried as much as we were able, but did not consider the accumulative effect of our assignment. I poured coffee and looked out over the rooftops of the Quarter from the balcony of Lafitte Guest House.
My companion was in the washroom preparing for the day.
"Such a beautiful city," I thought. "Incredible history in these buildings."
I felt oddly connected to The Quarter, a place I had explored only a handful of times, feeling a bit like the descriptions from those who have had past life experiences. Was it the French architecture, centuries embedded within its walls; or its connection to Detroit, ala New France, with the influence of the Sun King still lingering in the souls of both towns?
My companion stepped onto the balcony with a bottle of champagne, fresh squeezed orange juice, strawberries and croissant.
"Breakfast?" She said.
We took our time sipping bubbles, while conversation drifted through the events of the prior evening.
After our morning refreshments we were in need of a good walk and soon exited our quarters for a stroll through the city.
On Ursulines Street, we noticed a "Frenchman" on bicycle peddling leisurely with full handlebar basket. He wore hat, pencil mustache, neck kerchief, blue island print shirt, and rolled cuff linen pants – a beautiful character.
A few blocks later, we popped into Croissant d'Or Patisserie, and bumped into our Frenchman seated at table with coffee, croissant, and daily paper. We decided on the shop's coffee and almond paste pastry – a very good decision.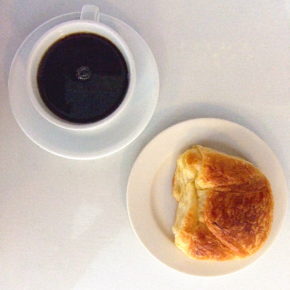 While we ate pastry and sipped dark, French roast, conversation turned to the The Carousal Bar, located inside Hotel Monteleone, which was packed with cocktailers and jazz aficionados the night before.
As the name says, the bar is an actual mini carousal that revolves slowly around and around. Bartenders work from center producing Pimm's Cup, Mint Juleps, and Sazerac to a seemingly insatiable set of revelers – we among them. My companion remembered that we each had two Sazeracs. We listened to 1930s jazz, performed live from across the room, and considered the ornately framed images of seductively attired Flappers that adorned the walls.
Then, on our walk from Hotel Monteleone to our lodgings we window-shopped Keil's Antiques, founded in 1899, and selected grand desks and chandeliers, inspired by Louis XIV, for the offices of The Metropolitan.
Still seated at our morning table we continued to enjoy almond paste pastry, while the Frenchman drank his coffee and read the paper.
"Damn, it was a long night," I thought.
The Patisserie was really quite inviting.  Quiet, with beautiful natural sunlight peering through windows that ran the length of the storefront. As one might expect, tradional French music played softly in the background, and every now and then a regular would pop in for a sweet to go – leaving a faint tingle of the tiny bell that hung from the door as they came and went.
My companion recalled the rounds of Absinthe we drank at The Napoleon House the night before.
"Last night?" I said.
"You don't remember?" she replied.
She grinned and slowly shook her head,  "And, the gay bar …"
Like previous trips to The Quarter, or past lives, or parallel lives, it was coming back to me, in fragments –  blurry snapshots of hedonism.
I hoped I didn't embarrass myself.
"Leather night at Rawhide was interesting," she said. "You looked adorable in chaps. But, I really liked the drag queens at Oz."
She moved her hand over her mouth to cover her laugh.
"Those were drag queens?" I thought.
She cleared the table with a grin and returned our china coffee cups to the counter.
"Merci," I heard the owner say.
My companion exited the patisserie, leaving a little tingle from the bell, and waved me to follow from the middle of an old, neighborhood, side street.
The New Orleans School of Cooking offers open demonstrations and hands on cooking classes, with chefs preparing classic Cajun/Creole meals, while providing history on both the food and the Quarter.
My companion booked a class where we learned to make Gumbo, Jambalaya, and classic southern pralines. I have to admit that I wasn't sure this was going to be much more than a tourist trap, but I was wrong. The class was informative and our instructor Pat, entertaining. She gave a historical account of the city, its people, and described how their cultures reflect the layers of each dish. And, then we ate – dishes were simple and satisfying, and I am still preparing them at home.
Feeling enlightened and nourished we again walked the streets, popping in and out of shops and taking pictures en route to St. Louis Cemetery No. 1, located on Basin St.
Inside the walls sit a variety of above ground tombs, many old, some new, creating an interesting blend of architectural and sculptural lines. While there are several important cemeteries in New Orleans, each with historically interesting people, the oldest is No. 1, established by a Royal Spanish land grant in August 1789. According to a plaque on premise, the cemetery was originally outside city limits and double its current size. Look for the tomb of voodoo Queen Marie Leveau, and the tomb that has been prepared for actor, Nicholas Cage (See Nicholas Cage in David Lynch's 'Wild At Heart').
(As of March 2015 only those who have scheduled a guided tour may legally enter the cemetery.)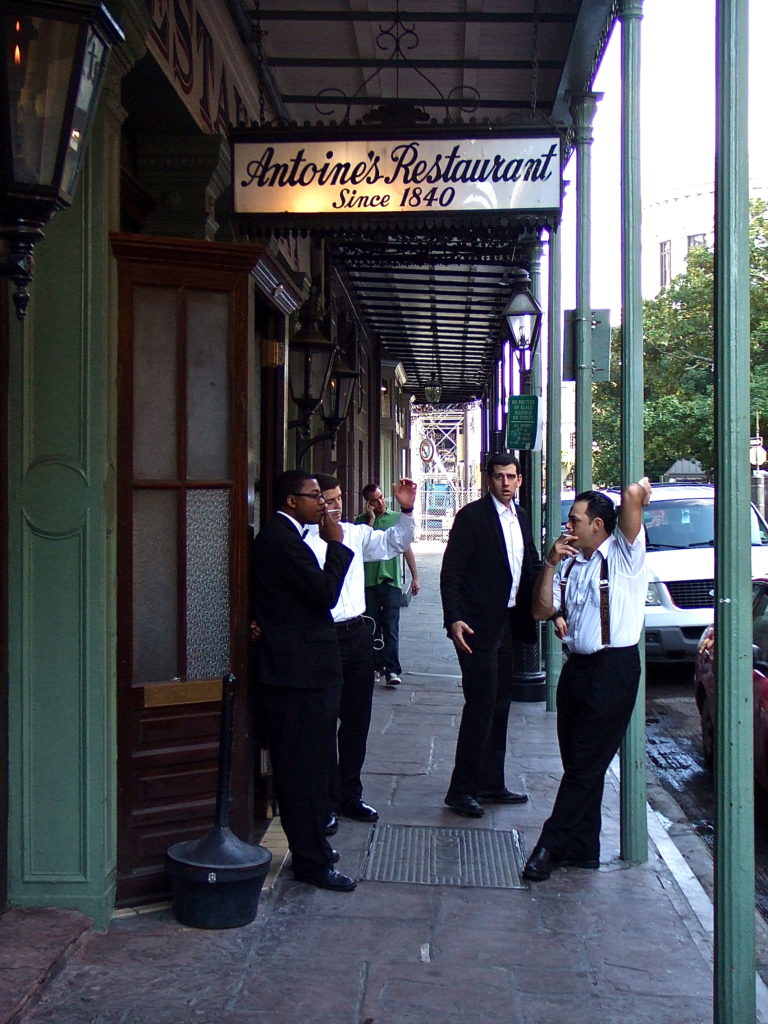 Back to our room to freshen up, Champagne on the patio, and then a leisurely stroll for dinner at legendary Antoine's Restaurant, established 1840.
Founder, Antoine Alciatore, is known the world over for providing the finest in service, atmosphere, and food. For five generations, the Alciatore family has operated the space, which houses 14 dining rooms, and offers all of the classic New Orleans entrees and desserts we were seeking.
Our reservation was for a late hour and we arrived to find an impeccably clean, nearly vacant, Main dining area – servers well dressed and at the ready. We began with cocktails and took our time with the menu. The choices were tempting, particularly the classic Chateaubriand (for two), but the lady decided on Filet de Boeuf Nature; and for the gentleman, Filet de Gulf Poisson Amandine.
It was easy to focus all of my attention on my dinner companion, who in vintage red ensemble would be lovely in any era. However, we were engaged in intimate conversation when I noticed that her eyes began to wander. When they grew big and round I turned to witness what looked to be blue flames running along the white linen of a table seating two on the far end of the room near the window; a server quite professionally, albeit somewhat awkwardly, attempting to douse the flames of what must have come from the making of Bananas Foster. The couple, leaning back in their seats, forced big grins and let out a few  "Ooos" and "Ahhs" before Garcon, with the aid of white linen cloth, breadcrumb comb, and finally, a glass of water, with slice of lemon, got everything back in good order.
Bemused, we ordered another round.
Dinner arrived and I must say the lady's was exquisite. Her Filet was cooked to perfection, slightly crisp exterior with a lovely pink center. She even ate the mushrooms, which I understand she does not normally do. My Poisson Amandine was merely passable – fish with butter sauce and sliced almonds. While it was not bland it certainly wasn't able to follow the earlier events surrounding the impromptu table fire.
For dessert, my companion surprised me with another classic (if not nearly an extinct): the "Omelette Alaska Antoine", which had to be ordered  24 hours in advance.
Billed as "Antoine's Very Special Dessert" the "Baked Alaska" starts with a tub of vanilla ice cream, surrounded by pound cake, and is decorated with an egg white meringue, which was also used to scroll our "special occasion" along the side of the dish, but was –  perhaps, not too surprisingly – illegible.
(Later, we learned that our Baked Alaska had been accidentally switched  with someone else's – not that it really mattered – which may have accounted for the smeared lettering.)
Two servers wearing tuxedos presented the dish on a giant silver platter. Setting the Alaska down a third added chocolate sauce. Though the menu indicated it was "for two" it was behemoth, maybe wearing ten pounds, and could easily have satisfied several people. We did the best we could to devour this piece of culinary history but barely made a dent.
Still, it was fun.
Afterwards, the manager offered a tour of the restaurant, which was very interesting, indeed. All 24 rooms are gorgeous time capsules including a Chinese designed ballroom that has been left unchanged since the Civil War.
One does not last in business 175 years without good reason. The staff was excellent, the atmosphere a perfect time capsul into a gorgeous era, and we really did fully enjoy our experience. Simply put, there is no French Quarter without Antoine's.
"What time is it?" I asked.
"I don't know," my companion said. "But, I'm ready to go back to our room"
We were stuffed to excess with food and drink. It was late,  and we were departing early the next morning for the Mississippi blues trail.
As our mule and carriage pulled up to the hotel a text came from friend and Detroit expat Josh Millar, requesting to meet him at Lafitte's Blacksmith & Bar, which dates back to 1722, for one last drink.
Lafitte's was located right across the street from our quarters, and we weren't sure when we'd have the opportunity to visit Monsieur Millar again, so we agreed (with my assurance that we would only stay for a single nightcap).
Inside Lafitte's cavernous room we found Josh banging away by candlelight to a drunkin, female musician, with cigarette-strained voice and out of tune piano – something once completely out of round and far too pedestrian for our globe trotting friend. But, Josh was now involved in a spring-autumn romance that amongst other things found him loving the whimsy of life once again. It was good to see him smile.
And, while we weren't fans of the set list, which included mostly collegiate favorites, it was clear that a chorus of nearly 20 revelers were. So, we sat together at a hardwood table, with shadowy light flickering about the slate floor, stone walls, and timber beams of a structure dating back to the life and times of our Founding Fathers; and we joined in with a group of strangers who had all converged on this one bar, during this one moment in time, and we sang deep, and we sang strong, and we drank heartily, long, long, into the rich, amber morn.
"Bye, Bye, Miss American Pie …"
And, when we finally left Josh he was still drinking whisky and rye with the few remaining good Ole' boys …
Images | AB