To Not Deny Oneself Any Of Life's Earthly Pleasures
By Anthony Brancaleone
Founded in 1718 by French Canadian naval officer, Jean Baptist Bienville, the French Quarter endures with street names from the ancien regime – Bourbon and Royal – and a city named for Regent Duc d'Orleans. Centuries later, the Quarter has grown with the cultural layers of African, Cajun, Creole, Italian, German and Spanish immigrants, making its food and musical heritage unique in America.
__________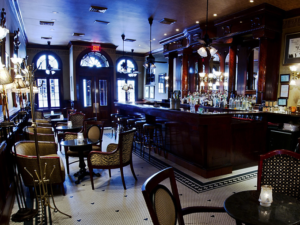 Our next stop was Arnaud's French 75 Bar , renovated in 2003, with heavy emphasis on hand craft cocktails and fine cigars. The interior certainly resembles a classic Parisian/New Orleans brasserie. It's heavy oak bar, period lighting, and elegant bistro tables, complete with exotic animal print fabrics on the accompanying chairs (though, not authentic skins), brings to mind an era when Cafe Society reigned. It was getting dark but the bar was not yet full so we sat in a cozy, vintage loveseat and ordered a pair of (what else?) French 75s. Delicious! We commented on the gorgeous black and white tiled floor work, the potted, tropical plants, and the Parisian jazz completing the ambiance. As we were still thirsty from our adventurous afternoon we followed the refreshing 75s with an Herbsaint Frappe and a Sazerac, both expertly crafted by the barkeep. French 75 is perfect for romantic cocktail sessions away from the crowds. And, of course, it sits adjacent to one of the top dining experiences in the Quarter, so it is wise to keep it on your list.
A text came in from long time friend, Josh Millar. This Detroit expat now resides in Baton Rouge, but spends most of his free time enjoying New Orleans food and drink with his lovely paramour, Hailee. Mr. Millar had been the sort not to enter a dining establishment unless he had cross-referenced several reviews online, or had heard about it through some esoteric source. Not a hipster – as hipsters could not keep pace with Millar's appetites – but certainly a connoisseur, Millar once flew to Spain expressly to lunch at El Bulli, the Michellin 3 Star restaurant in Roses, Catalonia known for molecular gastronomy. I mention this not to further stroke Mr. Millar's ego but to bust his balls for the drunken, late night Tator-Tots & Cheese plate he led us to at 13 Monaghan on Frenchmen St. Not that the college inspired dish was bad – it wasn't. In fact, it ranked as high a Tator-Tot experience as I have had. But, it was surprising. Respect to Hailee for not only being a gracious ambassador but for keeping Mr. Millar's feet firmly planted on French soil. Anyway, plenty else to do on Frenchmen St., where locals dine, drink, and hang at more than a dozen bars with live music. After one or two final hand crafted Absinthes, using vintage silver accoutrement (at a bar that has now changed names) we bid our hosts adieu.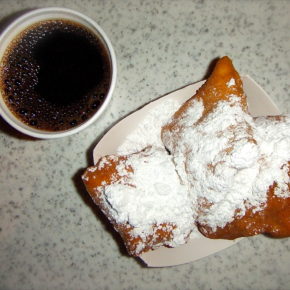 Day 03 ~ Another breakfast of chicory coffee and beignet at the world famous, Café du Monde, where the morning crowd differs greatly from the after hours set. A live brass, jazz band played traditional sounds as we took in the atmosphere and planned our afternoon. If you haven't guessed by now, New Orleans is so full of good food and drink that a trip to the Quarter leaves one little time for anything else. And, we were on a mission to try as much as we could.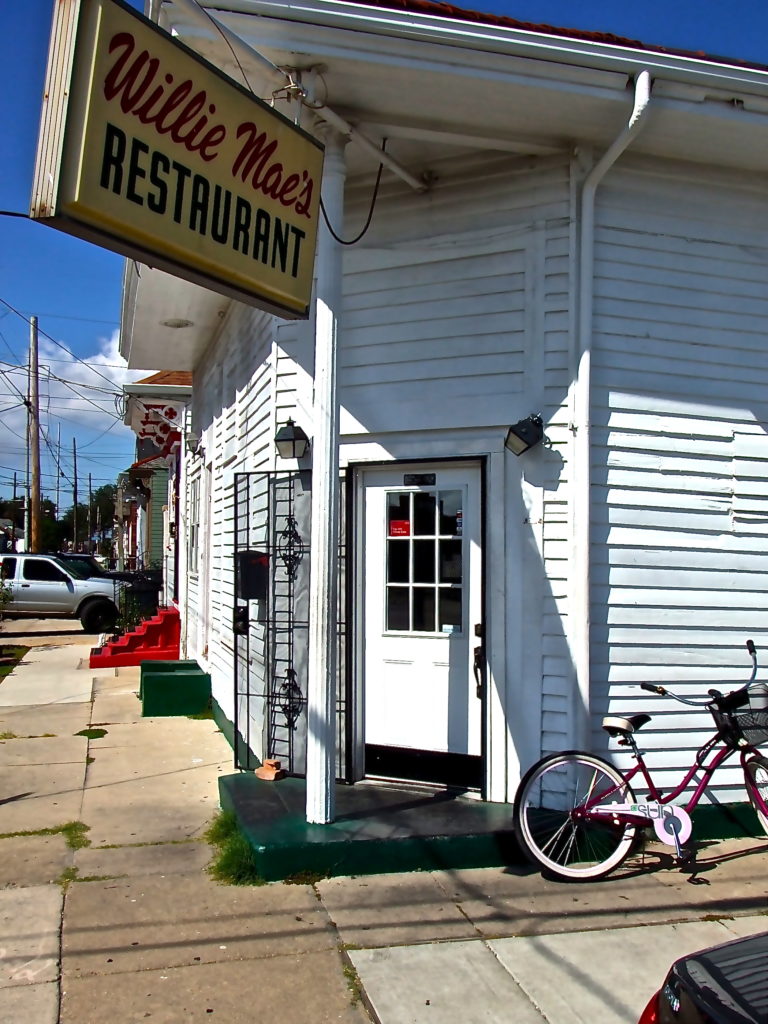 Willie Mae's Scotch House has been serving fried chicken and sides since 1957 in the Treme neighborhood restaurant. As of our visit, owner Willie Mae Seaton was 98 years of age. But, it was her great-granddaughter, Kerry Seaton-Stewart, along with husband, Mike, who was charged with the task of continuing the legend. The building, a humble structure just outside of the Quarter, felt warm and inviting for our party of three. In short, Willie Mae's served the single finest plate of fried chicken our table, including Mr. Josh Millar, has ever had. An attempt to describe the flavors in the chicken proves difficult. But, the skin was crisp, perfectly seasoned with salt, pepper and spices, keeping the meat perfectly moist. Sides consisted of sweet peas, a hearty mac-n-cheese, cornbread and a large bowl of butterbeans, which may have been the surprise hit of it all. The combination of hot, peppery, deep fry against the smooth, creaminess of zesty cheese, and the sweetness of the sides proved unusually satisfying. Simply put, Willie Mae's is down home, southern, soul food at its best – an absolute must stop on your trip to this city.
After lunch, we washed up at the hotel and then jumped a mule and buggy for the streetcar, which hugged the river all the way to end of its line, grabbed a transfer and hiked a few blocks to the next stop, which would have taken us to the Garden District had it been operational. We could have headed two blocks south for drinks and food at Cochon, a pork and Cajun restaurant in the chic warehouse district, but we had been there a year earlier with Millar. And, while we did enjoy the small plates and boucherie we were interested this time around in a more traditional experience.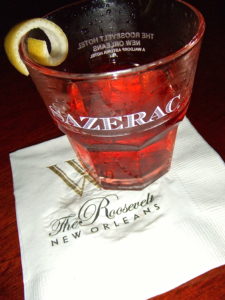 Located inside the The Roosevelt New Orleans Hotel is The Sazerac Bar, a landmark in that it is said to be the location of the world's first mixed drink, the classic Sazerac. Now, is that claim true? We don't know. But, we ordered two of the Official Cocktails of New Orleans, regardless. From the bar we viewed the Paul Ninas murals flanking the African walnut counter, spotted the antique silver goblets and other liquor containers along the back bar, and discussed the contents of our drinks – Sazerac 6 year rye whiskey, Peychaud's Bitters, sugar, Herbsaint rinsed glass. Rooms inside the hotel range from $200-$700. The Roosevelt boasts a rooftop pool and bar and Teddy's Café, located just off the Grand Lobby, which serves sweets, chocolates, and coffee.
Next stop was the Napoleon House, a 200 hundred-year-old structure offered to Napoleon in 1821 as a refuge during his exile. Unfortunately, for the dictator, he spent the last six years of his life imprisoned on the island of Saint Helena, dying in 1821 at the age of 51, without being able to visit this landmark. Respectfully, my companion and I raised our Pimm's Cups in honor of Napoleon's achievements and listened in candlelight to movements by Beethoven. The ambiance inside this bar at night is among the best in the Quarter. I truly love Napoleon House. However, an order of Muffuletta came in fairly disappointing fashion. It was served warm and the process made the sandwich soggy. For Muffuletta, stick with Central Grocer.
Rounding out the night was dinner at K-Paul's Louisiana Kitchen. Since 1979, this restaurant has been serving up classic New Orleans's fare. We began with a pair of Mint Juleps (Bourbon, simple syrup, and fresh mint, over crushed ice.), which were delivered with an astounding breadbasket filled with sweet and savory rolls, muffins and biscuits. Along with our Roasted Pear, Pecan, and Bleu Cheese salads, we could have made an entire meal right there, but that wouldn't have been very sporting of us. I ordered a traditional catfish fillet, topped with a crawfish etouffee, which came with steamed vegetables and garlic-mashed potatoes. The plate looked beautiful. Filled with color. And, the aroma of herbs and spices filled our table.
My companion ordered Blackened Twin Beef Tenderloins – seasoned in a Cast Iron Skillet – with "Debris". Again, a colorful dish of hearty beef, green beans and garlic mashed potatoes. Afterwards, we split a piece of Sweet potato Pecan Pie. Frankly, we could have split the whole meal, but what the hell, we were on vacation. K-Paul's may or may not be spoken of much in today's circles, but for solid, traditional French Quarter fare I place them in the discussion every time.
Looks like we've run out of space for this issue ladies and gents. Please, look for part three in next month's issue of The Metropolitan.