Yes, there is something to be said about classic American dining. You'll find the eggs, the bacon, the grease and of course the comforts of our childhood. And though I am not the biggest fan of the Americana diet, I will say I am delighted when someone attempts to reinvent the recipes we all know, with an alternative and healthier approach.
My dining companion, Lady K, had first suggested that we give Parks & Rec a try. My concern, however, was that we were both vegetarian, and I had doubts that we were going to be able to eat much more than some grits and eggs, but when I saw the menu it became abundantly clear we were in the right place. Their everyday laminated menus were anything but everyday. There were greens, starches, little vg/gf notations beside many options, fruits and all sorts of legumes. It was as if someone had taken your classic diner menu, flipped it over and shook it vigorously until a bunch of grease, meat and butter had fallen out.
K, amused with herself that she had made a good recommendation, quickly pointed out what came to be our favorite part of the meal – Roasted Squash & Apple Soup with a side of Pepper Toast. Imagine the go-to creamy butternut soup that you see at restaurants and bars alike – oftentimes with drizzles of aioli, maybe some crunchy onions flakes, a dash of paprika, or perhaps with a bit of zucchini or carrot chunks for texture. Unlike all of these, still good, but commonplace butternut soups, Park & Rec's version had been roasted with apple wedges and then braised with apple cider. Instead of bringing more complexity to the dish, they kept it simple with the already sweetened qualities and then added a tad of cream and sprinkled pumpkin seeds as garnish and texture. It was smooth, bold, rich and yet light and fluffy at the same time – and when eaten alongside an order of Pepper Toast it was truly superb. It almost seems a bit droll that this soup, which isn't their Standard, nor was it their standby, but rather just an add-on winter soup was our favorite part of the meal.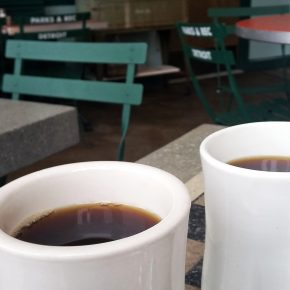 But don't let our exuberance for a side soup be taken the wrong way. The other two items were also a pleasant surprise. Out first was their Cider Donut French Toast. I know another sweet dish, and to be fair they have a good variety of savory options, but it was cold out and we had a sweet tooth that was rather persistent. So when these insanely dessert looking wedges of toast came out, our eyes lit up. I couldn't even tell you the last time that either of us had ordered French Toast at a restaurant – years at least. But these were just too good to pass up. We could tell that they use some seriously good quality dough – from scratch – and with care.
Then, in an abrupt breaking of our engaged silence, came a steaming hot fry pan on a metal dinner plate, packed full of tossed and toasted, then smothered in pesto, pasta. The thing looked almost alien. I initially thought, 'did we really order that?' It was our Pasta Hash – and there right on top, in an almost daunting fashion, was an egg ready to be cracked open. I will say one biting remark; that the egg was a bit less runny than we had hoped – which we remedied by just ordering two more poached eggs.