By Katie Williams
Motown music blasted out as models showcased Anna Sui's Poptimistic fall collection. Fashion VIPs Bella Hadid, Kaia Gerber, Taylor Hill and many others brought the '60s-inspired collection to life, and it was one of the highlights of the recently concluded New York Fashion Week.
For the collection, the Detroit-born designer took inspiration from her childhood in the Motor City, particularly and aesthetic borne of out of the '60s. She shared with ABC News, "I think you can see a lot of like my upbringing in this show, hence the Motown music, hence psychedelic posters. I grew up in Detroit and it was a music town and music is so important to all my work, so I really wanted to celebrate that."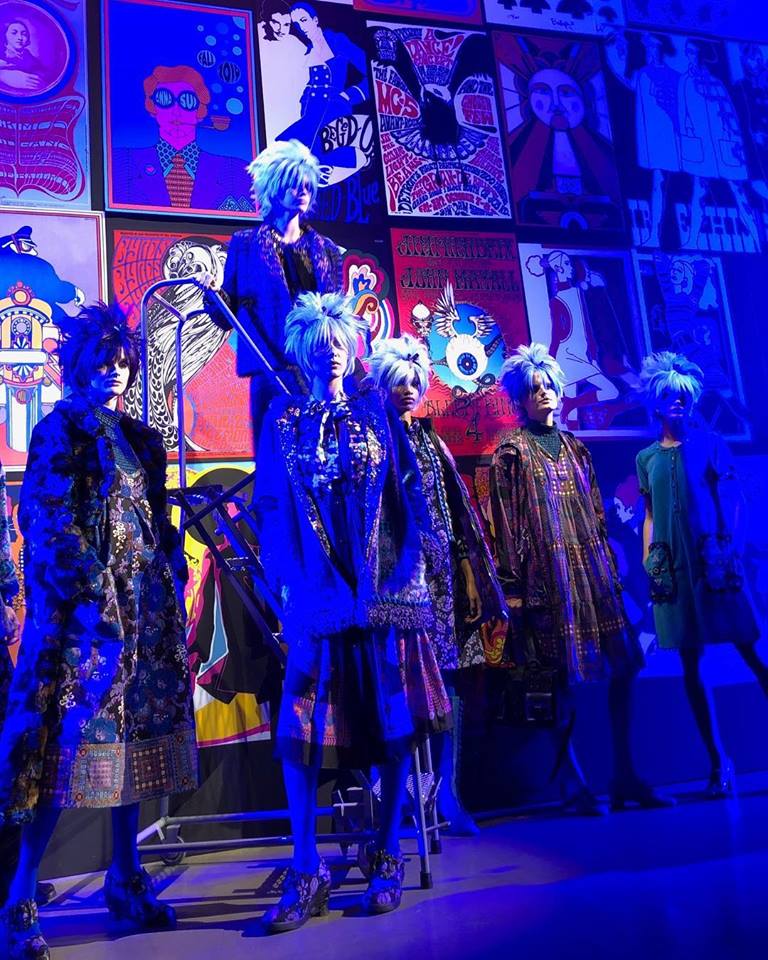 But the '60s influence didn't result in a throwback or dated collection. Rather than resorting to stereotypical '60s designs, Sui appropriated the era's most iconic colors, icons, and patterns, including super-saturated pink, psychedelic green, and Antonio Lopez's illustrations for Fashion of the Times, among others.
The outfits she came up with were also lively and flamboyant, reflecting her trademark energy and fun, as well as her party spirit. Her models wore bright wigs and were donned rickrack patterns, pony skin boots, ostrich feathers, and stone necklaces. The fuchsia and teal tights also added another visual dynamic, and made the show more colorful.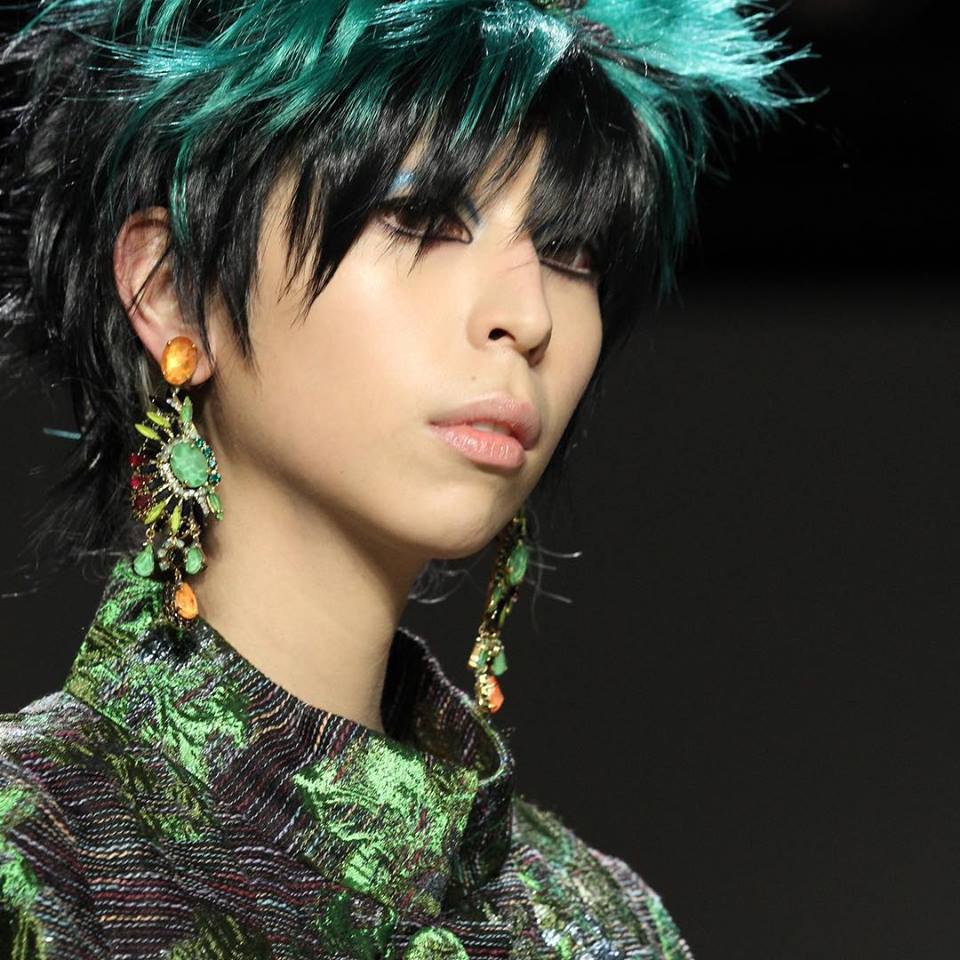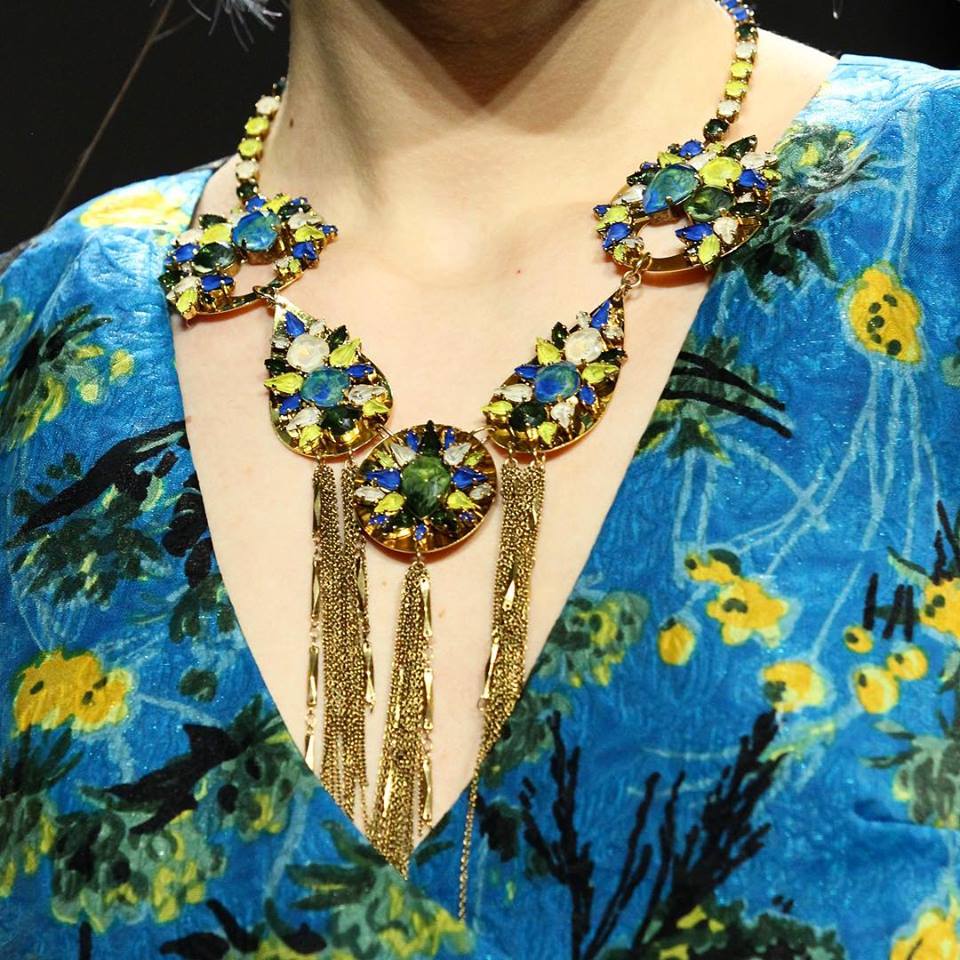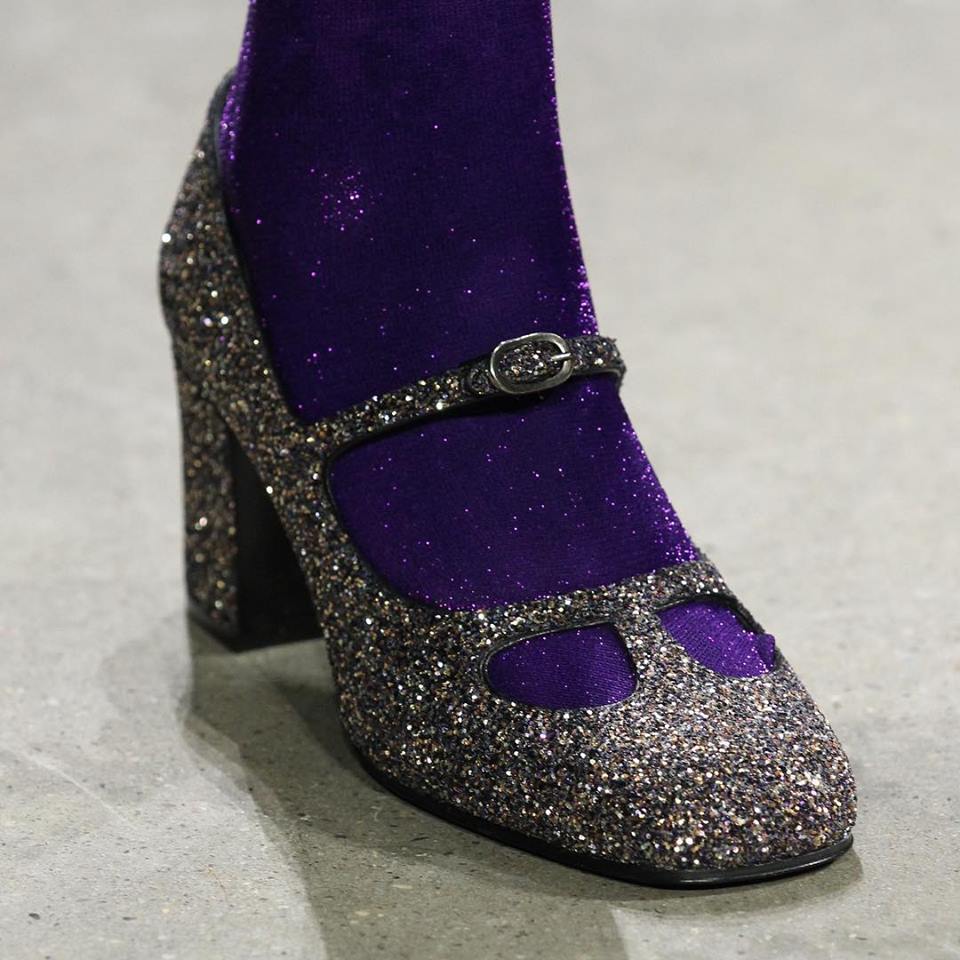 It's interesting how Sui's take on '60s psychedelia produced such a variety of unique designs. This can be partially attributed to Detroit's distinctive cultural scene, including in the fashion world. To get a full taste of what the designer has been aiming for, check out her mood board. It includes everything from Victor Moscoso's psychedelic posters, handbills from the Grande Ballroom in Detroit, photographs by Richard Avedon, David Palladini's Aquarian Tarot Deck, and a lot of other dynamic and creative influences.
Sui's collection is a testament to the more playful and colorful side of design. While a lot of contemporary designers have focused on making sociopolitical statements and eccentric designs, Sui places emphasis on contrast. After all, quirky color combinations, which were popular in the '60s, are experiencing a revival now. This can be seen in everything, from outerwear designs all the way to undergarments. Dutch designer Iris van Herpen has become known for mixing brazen colors, shapes, and textures in her outerwear ranges. Color options for shapewear and lingerie have also increased over the years from exclusive shades like white and black to the variety of colors we see today. In addition to skin tones, Woman Within also lists shapewear that come in a variety of colors such as pink, blue and purple. They provide consumers with additional possibilities in terms of how they want to express themselves. All of this shows a growing interest in zany color palettes, much like those highlighted in Sui's recent show.
But beyond color, Poptimistic evokes a certain vibrant vision that looks simultaneously at old-fashion and innovation. Sui doesn't wish to pander to an audiences' nostalgia nor does she want to shock with her fashion ranges. There is genuine energy and optimism in Poptimistic, and as far as we are concerned, these are more than enough to give her work a closer look.
Fashion Images courtesy Anna Sui