When you're living above the 40th northern parallel you'll find a need for boots that fit all kinds of occasions. And, as a woman with many interests I want to be ready for whatever comes my way. So, here are three options, for three very different experiences, that will bring out the different sides of being a woman in all of us!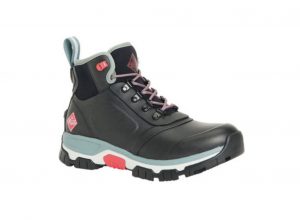 The Original Muck Boot Company
The Apex Lace Up Ankle Boot is built for outdoor types who love trekking in the snow, hiking through the spring wood,  or wearing something solid, yet comfortable, in urban environments. I love these boots. They fit great, keep my feet warm and dry, and so far provide excellent support in every situation. Apex is 100% waterproof, with mesh lining, and memory foam interior, making for a comfortable experience. The boots have legit rubber souls, providing proper traction, with a look and feel of serious footwear. And, while these boots might be a little warm in mid summer, they certainly will work three seasons of the year.  So far, I've been using them for every day use – city hikes, groceries, work – but I have also worn them to build snowmen, shovel snow, or to go sledding. This spring they will go for long hikes in the woods, canoeing, camping, maybe a ball game, and who knows where else?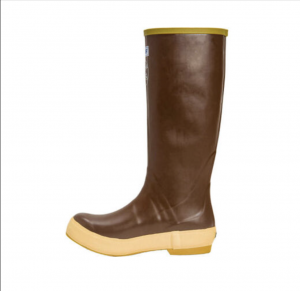 XTRATUF
The Salmon Sisters' 15″ Legacy were designed by two Alaskan fishermen, Emma and Claire. Inspired by Alaska,  nautical tradition, and made for the community of adventurers, fishermen, and ocean enthusiasts, the 15″ Legacy is a no nonsense, commercial grade boot,; with an adorably feminine Salmon Sister liner print. 100% waterproof, the triple dipped latex neoprene is ozone, oil, acid and chemical resistant. Slip resistant, with a cell PU foam insole for comfort, these boots are literally designed to go deep sea fishing off the coast of Alaska. That's bad ass. Back on shore, just fold down the top of the boot, exposing that adorable liner, and you're ready for cocktails and clambakes along any shoreline. I've worn these last fall along the St. Lawrence River, to a few wet and muddy youth soccer games, and the local market in search of Wild Caught Alaskan Salmon; where I also got a few "looks" from the fishmonger. Will most certainly use these over summer in Upper Michigan and will be with me next fall in search of Maine Lobster Rolls (although, I refuse to personally eat lobster as I consider them "Insects of the Sea").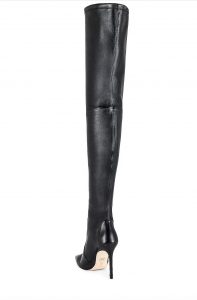 Stuart Weitzman
Recently, I was wearing a pair of thigh high stiletto boots in a downtown Boutique hotel when a game of Hotel Hide + Seek broke out between me and my husband. Fortunately, the UltraStuart 110 Stretch Boot is made for just such an occasion. Designed for high fashion and high function these boots are ultra dramatic and ultra glamorous. Known for its artisanal Spanish craftsmanship and quality, the luxury brand uses innovative stretch-infused materials, elevated by a 110mm stiletto heel, that offers the perfect, leg lengthening lift.
According to the Brand, every pair is constructed to maximize style and comfort so that women around the world can shine confidently. And, shine I did, as I maneuvered like a Ninja throughout mysterious corridors of Shinola Detroit. These Thigh Highs pull on over the knee, have a sexy pointed toe, with leather upper and leather sole. And, as I've already alluded, are Made In Spain. So, when you're feeling a little Neo Noir, and it's time to fully explore your femme fatale, I strongly suggest wearing the proper pair of Thigh Highs to complete the mission