In my part of the world winter and spring tussle for weeks. So, it's important to have those items that can transition with the weather. Spring essentials are all about having go to items that can travel and be worn year round, with a minimum amount of hassle. While there are several products that could fall under this category I have chosen three that have worked well for me.
Happy spring!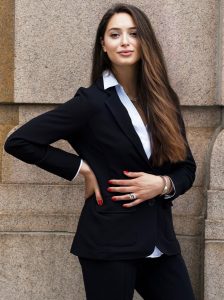 Duette NYC | Stretch Knit 24/7 Blazer – The Greenwich
For some time, I have been looking for a classic blazer. But, they are so hard to find. And, while I do own a few vintage items that work, every once in a while I need a new piece that can do it all. What do I mean by that? I want my blazer to be artful, athletic, and professional. It needs to support my confidence. It must be able to travel. It must endure. And, it should look like it isn't even trying.
The Greenwich is a classic design that will never go our of style. It's a garment that should be in every woman's wardrobe. I love the material. It's well made, form fitted, and it doesn't wrinkle. It's a blazer that can be worn all year round. In fact, I have a meeting within a week of this piece and I will be wearing this jacket. And, while I should have it hung properly on a flocked hanger in my closet there is a very good chance I'll pick it up hurriedley from a chair minutes before I leave. And, you know what – Greenwich will be ready!
Duette NYC offers a premium four-way stretch fabric that moves with you and smoothes your curves. The two button single breasted styling with front pockets and topstitch details are part of the Sustainable 24/7 Collection. Knit from sustainable recycled fibers. And, check out DuetteNYC 12 Easy Pieces to help complete your essential wardrobe.
Modzori | Karma 1 Beige Flips to Black
Picked up a pair of Modzori Uma 2 boots a few months ago and have been happy with them. Thought I'd give vegan leather a try. Recently, wore them in the snow on assignment in Petoskey, Michigan, and they did their job.
So, when I discovered Modzori's Karma 1 high sexy wedge sandal, I felt pretty comfortable that I'd enjoy another vegan leather product from this company. And, I was right! They are so cute! Like the versatility of color and texture, and the cork wedge is super comfy, without diminishing style. Wear these with a blazer, sundress, or while you lounge poolside in a bikini – holding a fruity cocktail, of course, with an umbrella spearing a pineapple!. Karma 1 high wedge replaces the gladiator sandal, which are usually flat and really did nothing for my legs or bottom.
Karma 1 is high-wedge, reversible sandal that can be worn in four different ways, featuring strappy pattern, twistable ankle strap and adjustable front t-strap closure. Designed by fashion icon Yelena Shmurak. As one of my choices for spring essentials Karma 1 is ideal for travel; pack one pair of convertible high wedge heels and have fun experimenting with your looks!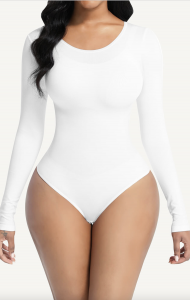 Shapellx | Long Sleeve White Body Suit
The ultimate wardrobe essential – a white scoopneck. In my case, I sometimes prefer bodysuits over shirts because they stay in place. They remain tucked. I feel secure in them at work, play, or busy with my young children. For me, this shirt is slimming and elongating. On a curvy body, however, it should accentuate the right curves. Works well under a blazer, casually with jeans, spring capris, or shorts. Maybe, wear them with those wedge heels I just told you about.
Shapellx designs garments advocating for body positivity. They offer waste trainers, bodysuits, bras & panties, with a Plus & Shape line.