From beachside to poolside, table-side to the boudoir, these adaptable swimwear faves will maximize your summer wardrobe, performing double duty functional fashion that easily transitions from hot, sunny days to those hot, hot, steamy nights.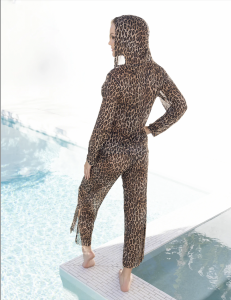 Swiminista Cheerful Onepiece Swimsuit in Black is a timeless onepiece that can double as an elegant swimsuit or be worn as a bodysuit, with skirt, to a cocktail party. Cheerful is supportive with ties in the front and back so one can adjust their fit with ease. The low cut back offers a sexier take on the often overlooked neck, shoulders, and back of the female form. I was impressed with the comfort and fit of this swimsuit, and the material feels great hugging the body, accentuating the curves in all the right places. I will say that posture is key in making this item perform at its best – posture, and I nice pair of Italian made heels.   
Another garment from Swiminista that ads a pop of fun with any swimsuit is the Christian Lacroix Terrific Hoodie in Leopard. Made from light weight micro mesh that is super soft, featuring a V-neck front and side pockets, this hoodie fits loose enough for flow and comfort but also contains a hidden elastic waistband, to enhance sexy curves. A flirty coverup that offers just a little bit more than a hint of your wild side. Btw,  it's also fabulous over a sports bra and leggings, for a touch of glam to your post workout look.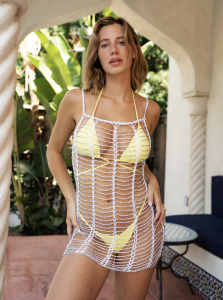 Fresh off Miami Swimwear Week and Part of the IVY 2022 exclusive collection is the IVY Swimwear Jolie Coverup Dress, featuring sparkling gems and beaded white knit material. Jolie makes the perfect day-to-night look. Pair with your favorite bikini for a fruity cocktail (with an umbrella, of course) or wear over a nude slip dress, to give a touch of Art Deco inspired style for later in the evening.
Another hot coverup from IVY is the Calla Net Coverup Dress. Think 90's Jean-Pail Gaultier and wear it like you mean it. For me, this item works best in Vegas, Miami, or somewhere late night in The Med. Just wear for a short while to avoid unusual tan lines. Reminds me of 90's club fashion and let's face it, that was pretty hot. Also use in the boudoir as a sexy piece of lingerie. Just don't fall asleep with it on in the sun or you'll procure some interesting tan lines.
Proviso: The item says One Size Fits All but I'm an XS/S and it was extremely form-fitting. I don't know where you curvy lovelies are going to put it but once it's there, look out!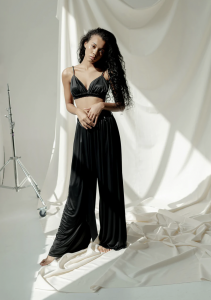 Speaking of lingerie: The Sleep Pants and Bralette by Gretes are just what every woman needs in their wardrobe – an extremely comfortable, flowy (and, if flowy is not a word, it should be) set of loungewear that works wonderfully by the pool, the sofa, and at bedtime. A part of Gretes' Pine & Eucalyptus Collection, these garments are sexy in their simplicity, utilizing Naia – a sustainable, ethical material, whose texture closely resembles silk. They are made for real women, who feel confident in their bodies and understand that comfort can also be sexy. Ultra comfort meets ethereal style. I love it. Makes a late night Hot Fudge Sunday experience all the more enjoyable. What a way to end a long day of fun in the sun.
And, so there you have it, ladies – garments designed to transition from the water to those fresh linen sheets, making you feel comfortable and sexy all day and night long.
Be well and enjoy the rest of the summer!