By now, we have heard about the Spitting Stanzler incident that took place the morning of July 17. The original hope of this piece was to question what constitutes a racist act, and to speak out on how Media can paint pictures that are based more in emotion than fact. But, nobody can talk about stuff like that in today's climate without being branded an antagonist of the social grain.
However, with your help, we will give it a try.
The man of the hour is Robert Stanzler, owner of Detroit Mercantile Co., who in the heat of the moment spit in the face of Ibrahim Muhammad – for context, Muhammad is a black man, who was working that morning as security guard at a social justice event at The Eastern, a space located behind Detroit Mercantile. Muhammad is also an acquaintance of Stanzler's. Somehow, all of this stemmed from a parking dispute on neighboring private land, which according to tax records is owned by FD LOFTS-PLAN 1021 company.
After the incident, witnesses defended Muhammad and told Stanzler that his actions would have consequences; one of whom is Detroit Narrative Agency Director, ill Weaver, who was quoted in a Metro Times piece by Tom Perkins as saying, "You need to leave. There's going to be consequences for your actions. We're going to boycott your business because our community doesn't put up with that kind of disrespect."
In that same piece, Weaver states that Stanzler responded by saying, "There's nothing you could do to boycott me because you don't know anybody". Stanzler was later arrested and later charged with assault and battery. That last bit though, "you don't know anybody" struck a chord. Surely a chord in the witnesses, and clearly a chord in local media perspectives.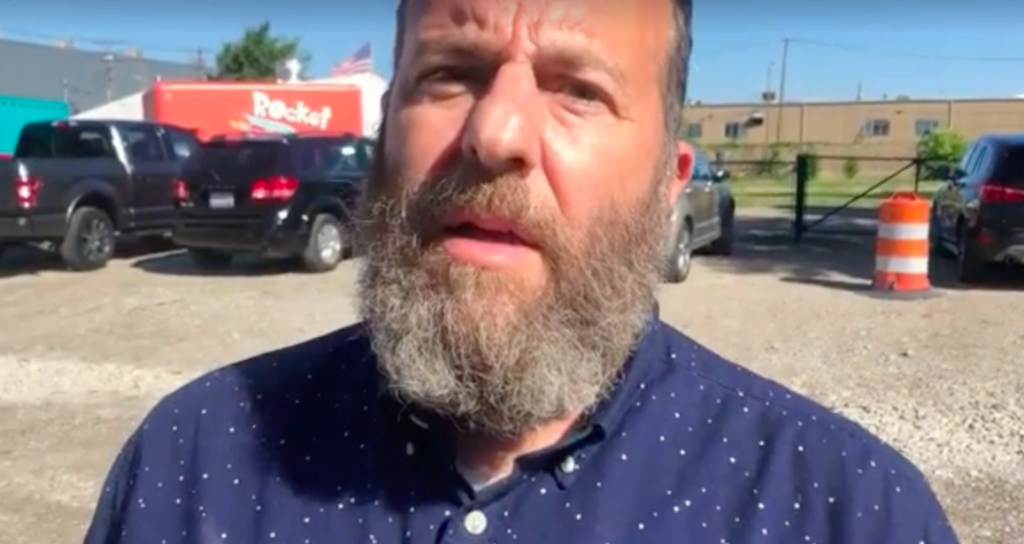 For clarity, Stanzler has a long standing history in Detroit. Descendant of Polish immigrants, Stanzler is not unfamiliar with the concept of hard work. He established the Made In Detroit clothing line in Eastern Market in 1991, for example, and put the brand on the global stage. By all accounts, Stanzler is not, as columnist Rochelle Riley in the Detroit Free Press claimed, "part of the new migration into Detroit". But, according to her description of these new transplants he does indeed fit the bill. Stanzler is white, and he is wealthy (compared to some). Moreover, he is known by many to be a shrewd businessman. And, his history is not without incidents of friction.
In 2009, Crain's Detroit reported Stanzler as having a falling-out with new business partners of the 'Made in Detroit' brand, which was bought by Kid Rick in 2005, after Stanzler lost it in bankruptcy. Later in 2014, Crain's Detroit reported that Stanzler was splitting ways with his original business partners in Detroit Mercantile Co., citing 'creative differences'. But, then what small business in Detroit hasn't met with it's share of problems?
Make no mistake: Robert Stanzler deserves to be held liable for his actions. Spitting on a person is a vulgar act. And, Muhammad  is to be commended for his restraint. But, does the act of spitting make Stanzler a "racist", as many in social media and some in traditional media would have us believe?
Riley, who was one of the first to write about the incident, may have meant well when she responded to a 'Love Detroit' slogan on Stanzler's Detroit Mercantile Co. website by saying, "Your love of Detroit may be unequaled, as you say, but to love Detroit means to love Detroiters. And your hateful, despicable behavior doesn't show love for the meaning of, residents of, or definition of the Detroit we're trying to build." But, Riley's sentiments, which do offer something of note, are her opinion, not news. 
Riley's thoughts are something we ought to uphold socially – in short, support and love us and we will love you back. Preach love. But, when Media does not lead by example then these are just words. A columnist, writing for the Detroit Free Press, in the News section, has the responsibility to present a fair piece to her readership. If not, Media runs the risk of further igniting an already combustible situation – as seen on various FaceBook pages over the last week that include everything from boycotts, to threats of violence, to calls for suicide and death.
Yes, three quarters of the column is full of facts, but the remainder was spun with opinion and accusation. While the Free Press has every right to publish the column it was misleadingly categorized as news (and, therefore, fact) and would, perhaps, be more appropriately positioned in the Opinion section. 
Clear responses, like a boycott, are a beautiful thing when they are positioned well. Yes, we know people, but we cannot allow ourselves to be seen as the mob. Unfortunately, collective actions can do more than earn respect and gain redemption, they can also unintentionally blanket a community in fear.
In anger, we often feel compelled to seek retribution against someone of whom we collectively feel deserves punishment. Wouldn't it be best, however, if we were able to act in good faith; in ways that cannot discredit our power and voice in the future?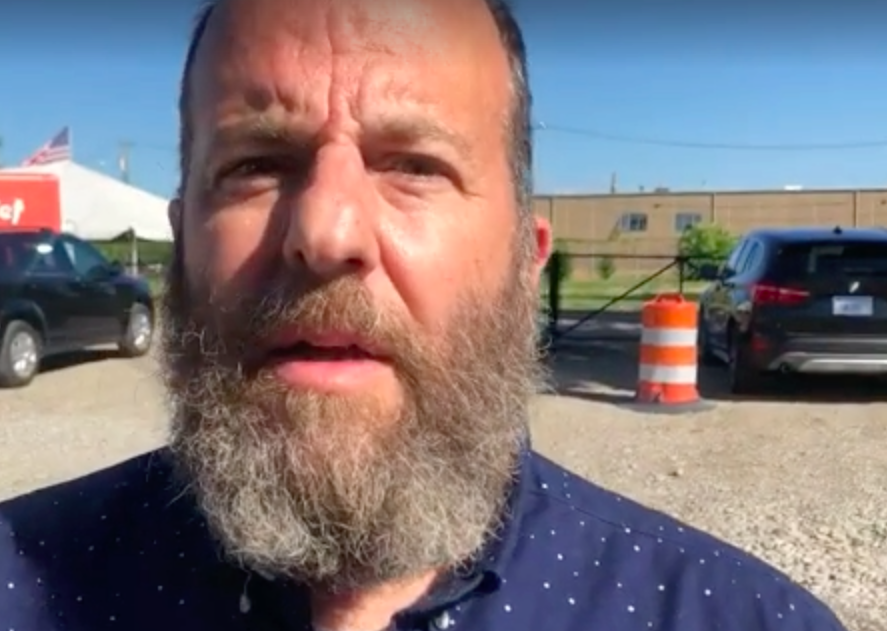 Not one local press outlet published more than reiterations of quotes and reports. The video shows anger, frustration, and a momentary lack of self control, nobody can deny that. But is that Hate? I don't know. There was no real digging by the press, there were no true evaluations of character, there was almost no healthy rebuttal, just some of our strongest voices, the press, branding the spitter a heretic.
In many ways, the spitting incident is a reflection of the anger and pain people in the community feel. And, for many, the act represents something larger than a dispute over a parking situation. But, to assign intent, to not speak the full truth, or enlighten us on the history of the accused, before passing judgment, does indeed jeopardize our own histories and stories.
For sure, these are tough conversations to have. But, we can have them. If we are not holding healthy dialogue and trying to build peace, then what are we doing?
The question is: was the act of spitting racist?
The short answer here is that we can't be sure. It certainly could be; his actions could be viewed as racially motivated; he certainly has the face, per Riley's description, of a 'newcomer' to the city. But, Stanzler might have also been having a really bad day, and chose a disgusting and disrespectful way to express himself.
In no way am I defending Stanzler's actions; in fact, I am not defending him or his motives. Rather, I am defending justice and sustaining our voice as a community. Surely, with proper investigating, we can connect the dots. And, the persons most responsible for sifting through the incident, persons who have a responsibility to find truth and speak on values that represent us, are members of the press.
But, something seemed off when I read the initial Metro Times coverage in a headline that read, "White Detroit Mercantile owner under fire for spitting on young black man over parking dispute." That headline only reads one way. It suggests a racial conflict. It's slanted.
Yes, without knowing the hearts of those involved, the incident could have been racially charged – wealthy, entitled, white man spits on working, youthful, black man in front of dozens of who's who in the social justice world. Without having to read the story, however, one could already take a position. The incident was framed as being racially charged, but that doesn't make it so.
As ill Weaver went on to call Stanzler, "White, toxic masculinity embodied" the idea of dealing with the actual crime – assault by spitting – became even more lost in the fog of race. It is this very situation, with these very titles, further reverberated in national outlets like Ebony, that promote – not silence – the ignorance of hate, as seen in the article comments of the masses.
One local outlet that stood above the rest was 910 AM Superstation, which on July 19, interviewed Stanzler's crisis manager David Rudolph. Simple, straight forward, and to the point regarding accusations of racism, the station focused on the issue. While not "tantalizing" coverage, it was fair and forthright.
We the people collectively hold a lot of power. We can decide to burn people at the stake, we can ridicule and take revenge, perhaps even push someone to the brink of suicide. But, is waving weaponry around wildly until we eliminate a person really a viable option? We must be careful how our actions affect both ourselves and others.
For many, Stanzler doesn't seem to get it, nor does it appear that he understands the severity of his choices. Or worse, he just doesn't care. 
Yes, hateful social media posts and violence are within our means. But, so is understanding more than what we've been told. We must learn to better sift through the debris. And, then what we should be seeking is justice rather than retribution. 
Beyond that, the community certainly has a right to peaceably air it's grievances. It also has the right to Boycott. Maybe, what will come from all of this are dialogues that better represent a fair and civil society. 
That's my hope, anyway. 
Robert Stanzler's official apology statement is now found almost exclusively in the Metro Times follow up piece, as the Detroit Mercantile Co. has since deactivated it's Facebook account, where the apology was posted.