"Everybody is ignorant, only on different subjects," said the great Native American humorist, Will Rogers (1879-1935), So, remember that, as I attempt to weave a story on this small town in northern, Alabama.
Guntersville emerged in 1785 a humble settlement along the Tennessee River. Founded by John Gunter, the great grandfather of Will Rogers, the air was filled with cotton whispers and steamboat hums right up until Civil War ravaged the countryside. In 1865, the USS General Grant coordinated with USS General Thomas in a destructive bombardment of the town, burning all but a handful of structures to the ground. During Reconstruction, Guntersville experienced extreme poverty; its leaders appealing to neighborly states to help end the widespread starvation experienced by the thousands of women and children who lost their husbands and fathers to war.
On a fateful day in the 1930s, however – under the New Deal's Public Works, enacted by President Franklin D. Roosevelt – the Tennessee Valley Authority began construction on the Guntersville Dam, birthing Lake Guntersville. A watery paradise, the serene backdrop has evolved over generations into an outdoor haven for anglers, tourists, and families. An old town on a peninsula, Guntersville echoes the past while celebrating its significance in the Southern narrative.
FRIDAY | Morning
Get Your Bearings – A good place to start the weekend is on the tree lined hilltop supporting The Guntersville Museum. The rough, limestone structure was constructed under the 1936 Works Progress Act as a military armory. It became a firehouse in the 1970s, then converted to its present state as town landmark in 2006. On property deeded to the city in 1900 by the Wyeth family, the museum now stands as a cultural hub of the community and is listed on the National Registry of Historic Places. It holds a series of collections and exhibits on the region's history including Native American artifacts, dating back to the Paleo-Indian Era, a somewhat Southern Gothic native bird taxidermy, and a permanent collection of watercolors by local artist, Frank Nelson.
Books and Things – Adjacent to the Guntersville Museum is the town's Public Library. The website says it has a well trained and courteous staff. While I am ignorant of their training I will say their staff exhibited traditional Southern etiquette. The library houses a sizable collection of books and a Southern History Room dedicated to rare resources culled from the southeast. Look for kids, teens, and adult programming online.
Fun Fact – John A. Wyeth (1845-1922) served as a soldier for the Confederate States, later becoming a prominent surgeon and founder of the New York Polyclinic Graduate Medical School and Hospital. For more information on the influential Wyeth family, John A. Wyeth's observations on the Civil War, and his life as a leader in American medicine, read With Sabre and Scalpel: The Autobiography of a Soldier and a Surgeon.
Afternoon
Best Ribs in Town – Just a short stroll down the hill from Guntersville Museum is Simmons Barbecue. Family owned since 1986, Simmons was easily the top suggestion taken from our unscientific 'Human on the Street' poll that asked, Where should we go for ribs? So, on advice from locals, we ordered two full slabs and could not have been more pleased. Smokey, meaty, with a tub of sauce that leaned just a bit on the sweet side. Tomato forward, with a black peppery finish, Simmons impressed our Bama-born guide almost to the point of silence. Originally, from Birmingham, Alabama, this recent transplant lived mere blocks from Simmons but had apparently been too skeptical to give them a try. As we've learned, Southerners are particularly particular about their ribs and barbecue. When the young Mr. Scott took a bite, however, his face revealed surprised satisfaction. As he chewed, he seemed to study the flavor, the texture, before finally giving in to a slow nod. "These aren't bad," he said. "These aren't bad at all."
Historic District – In 2009, the good folks of Guntersville decided it might be a fine idea to enact legislation in order to preserve the architecture of this historic downtown – five years later, the Northtown Historic District was born. The Old Guntersville Post Office – as pictured in our featured image – was built in 1940 in the Colonial Revival style. Some say it still houses Charles Russell Hardman's mural, "Indians Receiving Gifts". Had I known then what I know now I might have peeked through the window for a snap.
While some of the structures are being refurbished many are open for business. Fant's Inc was established in 1993 and is housed in the Fant's Department Store building; a one story Folk Victorian Style, featuring brick and masonry. Offering a selection of new and vintage clothing and furnishings, Fant's occasionally serves the community with a "Wine & Shopping" experience that, one of our fixers, the young Mrs. Scott, calls "the bees knees". And, they always offer Complimentary Gift Wrap – a service as vintage as it gets. Moody Brews Coffee & Lounge, owned by Rhea Kreuger and Dustin Huetinck, recently opened its doors after a long process of refurbishing the 1925 building. The couple has created a comfortable space for locals and travelers to enjoy coffee, pastry, or a bottle of wine. Contemporary Southern design, with vintage accents, the gathering spot is a fine example of how small business can serve their surroundings while maintaining its fingerprint.
Evening
High Cotton – The historic building that now houses Rock House Eatery was crafted in 1924. Originally, a private residence, some say it's haunted. Others, aren't so sure.  Today, it's a family owned restaurant helmed by Joey Duncan and son, Chef Brandon; who learned his craft at Le Cordon Bleu.
Billing itself a "Southern gourmet restaurant", Rock House Eatery makes everything fresh, with an emphasis on sustainable sources. We tried the Crispy Fried Green Beans (with chipotle sauce), in part because we had never before had them; the Citrus Pecan Goat ( mixed greens, crumbled goat cheese, orange sections, cranberries, and toasted pecans); The Rock Star (slices of slow roasted sirloin, jalapeño Cole slaw, mayo, melted provolone, on a grilled French Roll, served au jus), mostly because it was named for the location (and we were able to try it on a fluke), but also because … au jus; and, the house pièce de ré·sis·tance, a 16 oz, hand cut, Bone In Ribeye, with Coffee Rub. High marks for this neighborhood eatery. Loved the atmosphere, southern hospitality, and the meal gave us a better understanding of where this part of the Deep South is headed.
"Things ain't what they used to be and never were." ~ Will Rogers
One does not need to be a genius to understand the cultural ramifications associated with new developments. Usually, all one must do is ask locals a few questions about a project and then shut up and listen. In some cases, however, it isn't necessary. City Harbor, a $30M + mixed use facility, recently opened on the north east side of Guntersville Peninsula, offering 55,000 square feet of entertainment venues including restaurants, bars, retail outlets, and short term hotel suites. It is clearly a step in a new direction, seeming to update the warehouse aesthetic found just south in Guntersville's industry and rail sectors. At its best, City Harbor will be a destination for tourists looking to enjoy the Peninsula, while adding jobs and tax revenue to the area. Developments of this magnitude, however, have the ability to overwhelm a community, inadvertently helping to eliminate the very nature of the thing it sought to enhance. As I stood on the dock overlooking Guntersville Lake, it seemed the powers that be were, for now, navigating the waters. And, the docks sure provided a beautiful view. Will these new developments integrate well with the Peninsula's old Southern charm? We'll see.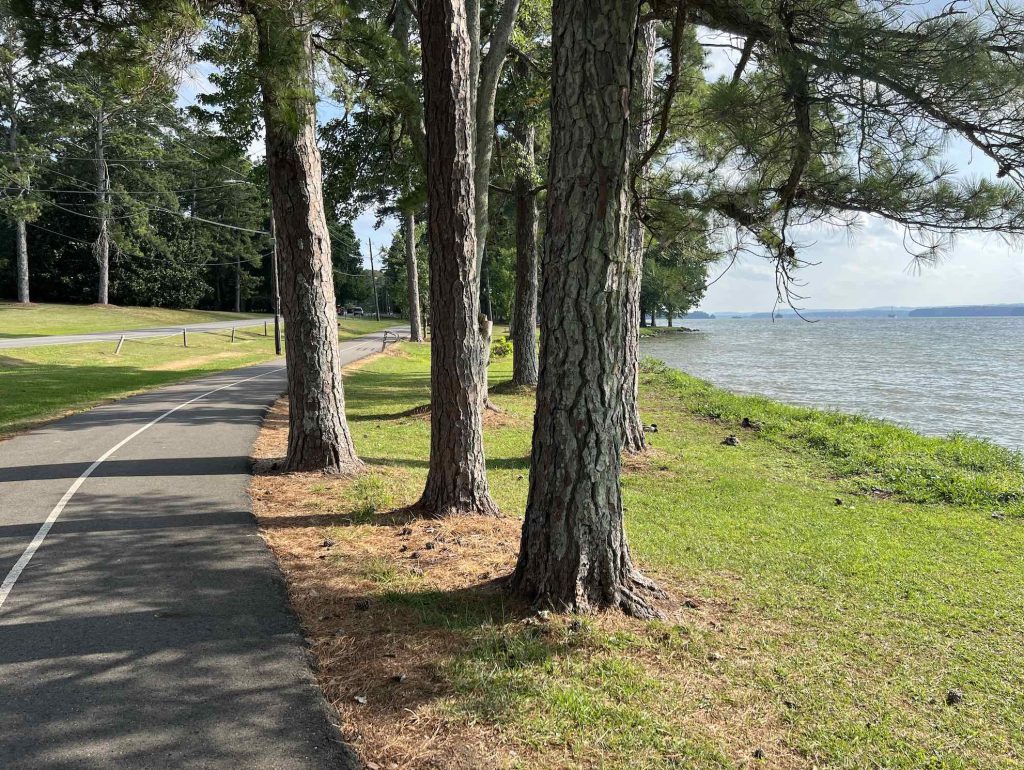 SATURDAY | Morning
Breakfast – If you're staying in Lake Guntersville Bed & Breakfast then you're obviously experiencing a home cooked Southern breakfast – biscuits, jam, bacon, fresh ground coffee, the works.
Another Fun Fact: Also known as, "The Hooper House", a registered historic home, built in 1910, the B&B hosts Happy Hour between 5pm-6pm on Fri & Sat nights.
Take A Hike – Grab a coffee and hike the 3.6 mile Sunset Drive Walking Trail that begins at the northern part of Guntersville Peninsula and winds its way south along the water through a variety of parks and playgrounds. In 1990, The Trees Along the Trail project launched in an effort for nature lovers to identifying trees. Plenty of stops for wading into the water, viewing pieces of artwork, or statues and markers honoring those who have passed. Quite an interesting journey.
Afternoon
Tacos – Apparently, Guntersville has a sizable Mexican population and, therefore, a number of authentic Mexican restaurants. Once again, I took an unscientific poll; only this time it asked, Where Are the Best Tacos in Town?  Los Arcos was the number one response. So, we went with carry-out and enjoyed those for lunch. Fabulous. Full of flavor. And, very satisfying. However, I would be remiss if I did not mention the strong suggestion from locals, Adam and Amy Hollis, who urged me to drive to Albertville for La Orquidea tacos. Next time, amigos. By the way, neither location has a website or socials but their easy to google.
Open Swim – Guntersville has a wonderful Parks & Rec department that includes, among other things, extremely well manicured baseball fields, indoor basketball court, lighted tennis courts, the trails and parks I have previously mentioned, and a three pool community complex. Just a few dollars to get in, the well maintained, and featured a racing lane pool, public swim pool, a children's pool, and a few waterslides, as well. Great way to spend the afternoon.
Fun Fact: The Guntersville ballfields feature gorgeous deep, reddish, diamond dirt, that I believe is called, Beam Clay – about 70% sand 30% silt / clay mixture.
Evening
Southern Picnic – Stopped into Piggly Wiggly and discovered the classic market offered southern fried chicken. So, we picked up watermelon, corn on the cob, and had our gentleman fixer prepare the biscuits to round out a real southern picnic. Washed it all down with Buffalo Rock ginger ale. Afterward, a swim at Guntersville Beach during sunset.
Late Night – HOUSE (1977) by Japanese director, Nobuhiko Ôbayashi. Part comedy, part horror, part surreal nightmare; brought to life after Ôbayashi's 12 year old daughter confessed her fear of being eaten alive by her mirror. Don't know how I let this one slipped past. Not only did our gentlemen fixer make biscuits capable of winning any county fair but he knows how to pick movies!
SUNDAY | Morning
She Sells Sanctuary – How do people work, how do they play? What is important to us in life? What about the hereafter? In most communities, religion is a large part of the fabric. So, I do my best when traveling to explore the many ways we worship. And, while I usually come away with more questions than answers it good to see people of all persuasions trying to do what's right. The folks at Creek Path Baptist Church are no different – they gather, they pray, they sing, and in the south they often meet afterwards to share barbecue, southern desserts, and good conversation. Although, one of my favorite southerners on Insta @landontalks might call it strictly "gossip".
Lost Highway – Just down the hill from church is the American Inn. While I could not verify its date of construction, I just loved the design of this little roadside motel. Why don't we call it Mid Century Americana. Makes me think of a place Loretta Lynn or Johnny Cash might of holed up in during their early tours – black and white tv, am radio, bottle of Bourbon on the side table, Bible and a gun in the top drawer.
Souvenirs – Nothing lasts forever, boys and girls. Sooner or later it's time to go. But, thanks to places like Antiques & Sweets one can always stop in for a momento – for our purposes it was Chess Bars and Jade Tea Cups. The Chess Bars came from a local baker at Down Home Market and the Jade Tea Cup signified all the southern sweet tea we surpassed for Oolong.
Until next time, Guntersville.
Be well.
______________________________________________________
Lodging | In Case You Feel Like Visiting
Lake Guntersville Bed and Breakfast | City Harbor | American Inn (motel)