A sedentary lifestyle is no good for anyone. Like sharks, we must move, eat, and mate in order to be at our finest. That's not me, that's science. But, it's also how we travel, what we eat, and with whom we are mating that makes all the difference in the world. I say this, as a Man of Mobility, because in order to be affective while on the move one must properly equip oneself to be effectively mobile.
As with all things, choose wisely.
After six months of researching the Apple site, YouTube reviews, and speaking with a pair of tech confidantes, I finally purchased a refurbished M1 MacBook Air. Don't worry, I'm not going to bore you with all of the specs. Nor, would I be able to do so in this short piece. For that, please visit the link and hit up YouTube, as everyone's needs are a bit different.
I do, however, feel comfortable sharing my thoughts on how this laptop works for me.
To begin with, the screen is gorgeous. Outside of clarity, gorgeous color, including the deepest blacks, it's difficult to describe. It must be seen to be fully appreciated. I use it for photo and video editing, writing, YouTube, and a series of film platforms, like Criterion. Everything looks as fresh. The built-in audio is also a fine compliment to the screen, providing warm, clear tones.
Next, and perhaps most importantly, I love the keyboard. Very user friendly. And, while I still key like a novice the positioning of those keys – and palm resting areas – are well designed. Ergodynamic. The feel of the board makes work a pleasure. And, the subtle warmth expressed when the board is backlit only adds to experience. The M1 is a sturdy, yet comfortable, machine.
Apple claims the battery on the MacBook Air lasts anywhere from 15-18 hours. Other tech sites have reached similar conclusions. In my experience, I am reaching those levels. And, the laptop does not have a fan. Zero noise coming from inside. The M1 is a silent partner that over the past year has always been ready.
Finally, the laptop looks beautiful –  slim, lightweight, easy to slip into luggage, backpacks, or cases. It's a mobile workstation that has proven to be just what I need to perform my art and commerce.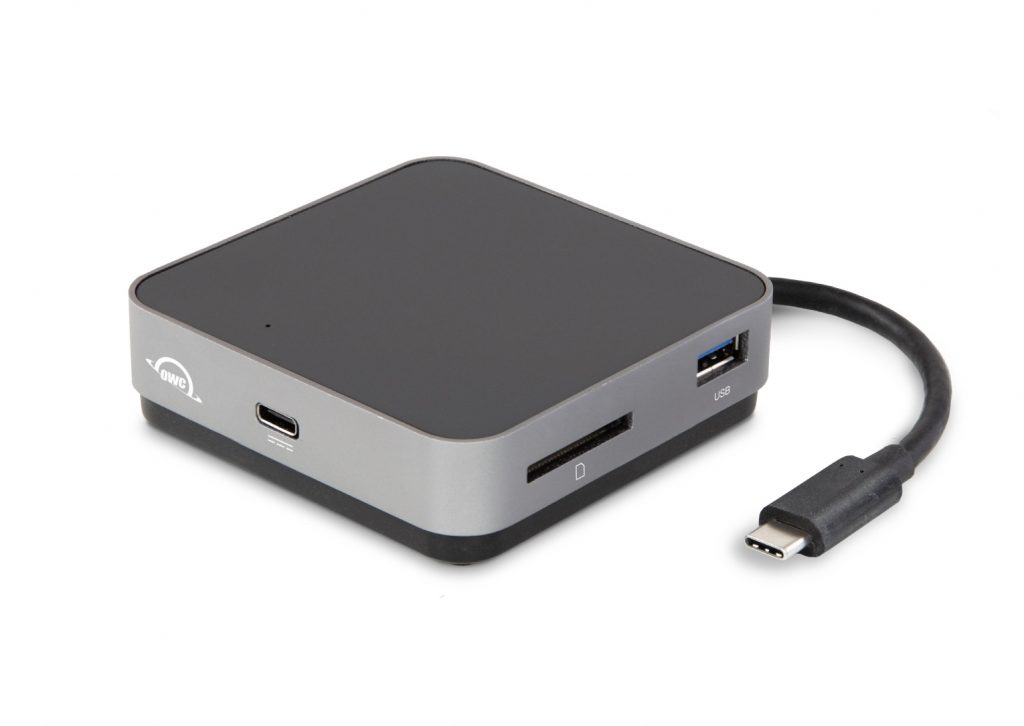 Again, it seems silly to go on about the specifications of OWC's USB-C Travel Dock when the link takes you straight to the site but if I didn't what else would I write about? Well, it's a small, sturdy, travel dock that works perfectly with my M1, as well as my iPad. It comes with an Ethernet port, reliably handling a Gigabit of ethernet connectivity, with five other essential ports: Two USB 3 Type-A, HDMI 2.0, SD card reader, and USB-C power pass through.
Like the site says, through its integrated USB-C connecting cable, the diminutive Travel Dock E lets you transform a studio, classroom, boardroom, or coffee shop into your mobile office with the ability to connect, charge, display, and import at will with USB-C or Thunderbolt 3 equipped computers, tablets, and phones. And, of course, I use it in B&Bs, motel and hotel rooms, when I travel.
This compact dock can be used via bus power when you don't have access to a power outlet. Or, connect a USB-C power adapter to the Travel Dock E's USB-C power delivery port to charge your device with up to 100W of power. And,  like how the connector cable fastens safely on the underside of the dock. Just a nice, compact, unit.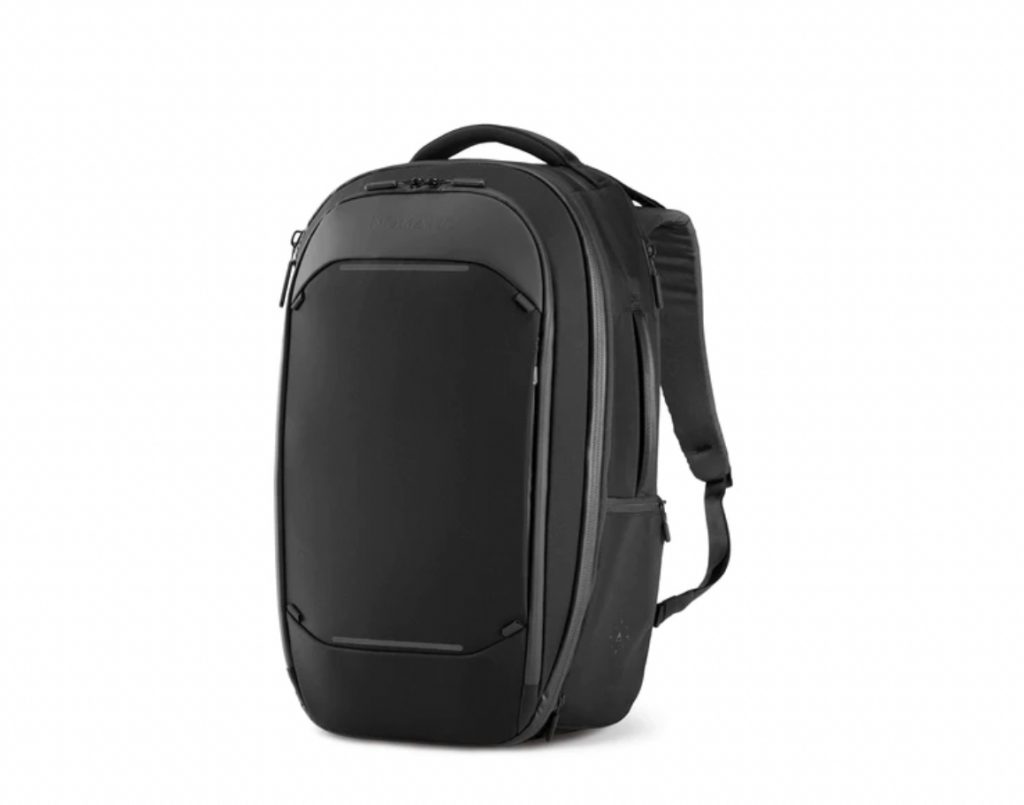 Nomatic Backpack | Navigator Travel 32L
Of course, one needs the proper backpack in order to move gracefully, yet skillfully, from the rugged terrain of the great outdoors, through airports, to rides that whisk one from luxury boutiques in Detroit or Paris, to the classic hotels of London and Rome. And, while my journeys over the past 90 days have been less exotic they were each accompanied with the use of my 32L Nomatic Travel backpack. Pleased with the construction and durability of this backpack, as well as its thoughtful organization and sleek design, the Navigator provides flexibility while I travel. In this pack, I am able to move as traveler, hiker, or photojournalist. There is a 9L Expansion zipper for extra clothing, a lovely, hidden, padded compartment for a laptop up to 17″, and plenty pockets and compartments to tote all of my mobile gear. Three months in and I'm still finding secret zippers.
On my back, the Navigator's breathable back panel and load bearing harness system makes the trek a much more comfortable affair than other bags I've utilized. The pack has several external carry straps, four external grab handles, quick access pockets, and space for two water bottles. It's also made from water resistant materials. In airports, you'll make good use of the ID card slot, RFID pocket, key leash – and, don't underestimate the tamper resistant zippers. This pack also works as a carryon.
Simply put, I like the look and feel of the Navigator. It moves from natural to urban environments easily and, for me, has proven a useful tool in an increasingly mobile lifestyle. This is the first Navigator I have owned but the company has many models, each serving a particular niche. I'm confident I will be getting other packs and I will be sure to let you know how they hold up in the field.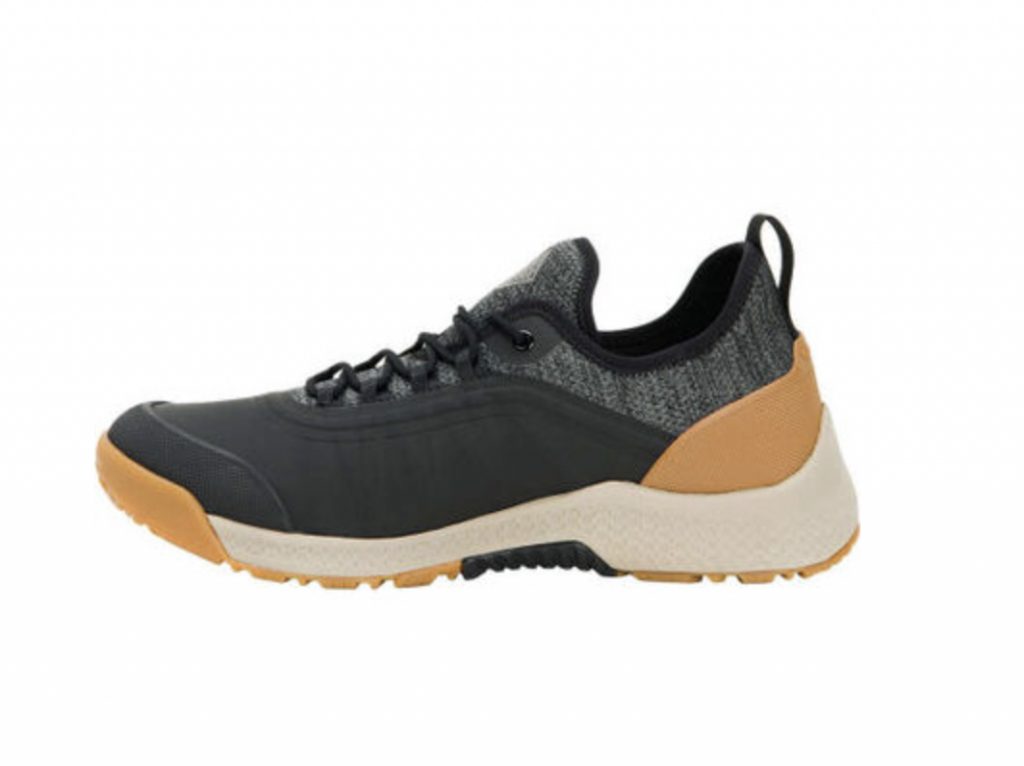 The Original Muck Boot Company – Outscape Lace Up
Now, that we have our mobile gear stuffed into our mobile backpack we must consider what footwear to use in order to get from point A to point B (and, sometimes, C). I use a variety of footwear for a variety or reasons, but I chose the Outscape for the performance and versatility the Muck Boot promised on it's site for those on the go; be it in the garden, working in the yard, hiking with the dog or for those days when you can't decide between the waterproof shoe you need and the lightweight sneaker you love.
The Outscape is a lightweight, 100% waterproof lace-up shoe and has worked well throughout summer on mucky or dry hikes. I've used them many times on the trail, as well as at least 10k steps per day on the sidewalk. They've worked perfectly while I shoot photos in the city, rain or shine. My feet are never wet from water or sweat. These shoes breathe. They are comfortable and really work with more items of clothing than I had anticipated. Muck Boot says they have a "self-cleaning rubber outsole for optimal traction and reliability" and I have to admit these shoes rarely look dirty. It's a funny point, but they've been wet, muddy, sun drenched, and they pretty much look the same as they did when they arrived.
Moving into autumn / winter, I am certainly going to transition into boots. But, for spring / summer these shoes have proven to be a daily wear that, for me, have lived up to their promise.
Writer's Note: I'm letting you know what I use and have found to be useful. Just because it works for me does not mean it will work for you. Take a look at the provided links and then look around at some other reviews before you make your decision. 
Be well out there.