Words and Photos by Jeanette Frost
My destination this trip was among the high-pitched rooftops, stained glass windows, and wide porch fronts on Penniman Ave., a lovely bed and breakfast named Robyn's Inn.
Co-owners Robyn Baidas and her mother, Nancy Baidas, purchased the property in 2018 and spent two years renovating, before opening Valentine's Day, 2021. With three ample sized rooms in the historic Main House and two luxurious suites in the Carriage House, Robyn's Inn is an upscale B&B limited to an occupancy of no more than ten guests per night.
Upon entry, I was greeted warmly by Robyn, who gave me a short tour on the way to my suite. Immediately, it was clear why this B&B is endorsed by Select Registry, a non-profit organization of more than 300 distinguished B&Bs, boutique hotels, and country inns throughout the nation. The decor exudes elegance, furnished with clean, contemporary, modern and vintage touches, while still honoring its 1903 heritage.
With a color scheme of whites, grays, taupes and black, with touches of teals and blue-gray, the attention to detail throughout Robyn's Inn is impeccable. Little things caught my eye; refinished skeleton keys, adorned with light blue tassels in closet keyholes; custom cut marble slabs placed atop silver painted radiators (glad to see them embrace radiant heat); a gas fireplace sitting-room, embellished with Pewabic tiles, to name a few of the thoughtful, ornate details.  
According to Robyn, her mother, Nancy has a penchant for interior decorating. And, while the two women worked closely together on design, the daughter was quick to acknowledge her mother's talent and contribution. One of many examples comes each Friday, when Nancy can be found composing the floral arrangements, which extend throughout the property adding color and harmony.
My tour ended at the Lark Suite, where Robyn left me with the most important information: Breakfast, at the Inn, runs from 8:30am to 9:30am. "Enjoy your stay," she said, handing me the key – which came safely tucked inside a white card, stamped with a black bird, holding the name of the Suite, address of the property, and her phone number.
The Lark Suite features modern and luxurious amenities; plush kingsize bed (with super soft linens), remote controlled fireplace, and a beverage station, with bottle cooler, that included a full supply of Harney and Sons tea and Illy coffee.  The restroom was immaculate, well designed, including a spacious walk-in shower, with skincare and hair products by William Roam's Sense Collection. In a separate room, a deep-soaking, clawfoot bathtub – with side-table, bath salts, and sea sponges –  surprised me with the promise of a perfect Spa weekend.
Of course, the Suite was equipped with a large flatscreen tv, but I never got around to using it; opting to read, write, and sit by the fire, instead. But, not before I forced myself to try the soaking tub. While, I have bathed in a clawfoot tub, I have never been in a soaking tub. This, was an elevated experience.
The tub was deep and large enough that I, at 5'8″, could extend my legs and submerge fully in the bath-salted water. I gave myself a facial, using a combination African Red Tea Cleanser (elevé), a pinch of Baking Soda, finishing with a bentonite healing clay mask. Oh, and I also ate more Dark Chocolate Sea Salt Caramels from Kilwin's than I care to admit. Jumping out of the tub, I went straight into a soft and comfy robe and slippers, also provided by the Inn, and prepared to head into town.
Robyn's Inn could not be placed in a more perfect location. Being steps away from downtown cafes, bars, shops, and Penn Theater made walking a joy. And, with Westborn Market practically next door. I made it my first stop; spending an hour browsing the seemingly endless delectables for the perfect snacks to store in my room – only to wind up with a $.99 bag of Great Lakes Parmesan Ranch Potato Chips.
Downtown Plymouth is an adorably quaint and picturesque little town. During the holidays, trees and street lamps are festively aglow, including Plymouth's annual Walk of Trees in Kellogg Park (November 26, 2021 thru January 3, 2022).
During my stroll I came across Kemnitz Fine Candies, a classic candy shop open since 1951, celebrating 70 years of business. My eyes wandered along the colorful candy displays, with jelly fruit slices in almost every flavor, an array of hard candies (some, like your great grandma had in her glass candy dish), various barks, brittles, toffees and chocolate truffles. But, it was the Santa and snowflake wrapped chocolates that reminded me to grab some stocking stuffers for the season.
With toy stores becoming a dying breed, we must support local businesses like Genuine Toy Company! An exciting shop, filled with toys that will take everyone back to childhood, GTC blends vintage inspired goodies like slinky, spinning tops, marbles, tiddlywinks, and tinker-toys, with current options like Melissa and Doug and Calico Critters, to name a few.
Unfortunately, I was not able to enter Muriel's Doll House and Toy Cottage, as it was closed after 5pm Saturday and again on Sunday, but I loved the exterior! An enchanting compliment to the downtown markets, restaurants, and shops.
Dinner came much later than I would have liked, as Nico and Vali Italian Eatery was booked until 9:30pm. But, as I would discover, it was well worth the wait. The atmosphere is hip enough for date night but casual and cozy for those dining alone. I sat at the bar and ordered a glass of red to go with the Pappardelle Cinghiale (wide pasta with braised wild boar Ragu) that jumped off the menu. The noodles, Al dente. The meat, slow roasted, succulent, pulling apart much like a perfectly done pot roast. Fabulous! A local, named Alicia, who sat next to me and shared stories about lost baggage in Texas, locking herself out of a running car (with her baby inside), and having to wear a swimsuit, with a print of a man's hairy chest, to a bachelorette pool party in the Caribbean, also told me the goat cheese ravioli was outstanding. So, there are at least two options for you.
As I walked back to Robyn's Inn, the soaking tub was calling me …
After a comfortable sleep, I made my way to the main house for breakfast in the dining room. Robyn Baidas offers light, healthier options for her guests; beginning with French press coffee, using locally roasted beans from Espresso Elevado, and a hearty yogurt parfait, served in large crystal goblets, loaded with berries and granola. On the buffet, there is a selection of quiche, salad of mixed greens and golden tomatoes, hard boiled eggs – served in silver egg cups – fresh fruit, and a variety of fresh juices. And, then, for those who like to indulge, there are gorgeous cinnamon rolls, blueberry pound cake, croissants, and preserves. I felt very pampered, indeed. Breakfast was divine.
My morning plans of boutiquing were shot due to heavy rain. Embracing it, I went back to my suite for a spa session; Yoga, followed by the walk-in shower, which was well-suited for body exfoliation treatments. I wrapped myself in another plush robe, enjoyed mint tea by the fire, and read a good book – Une Femme Française: The Seductive Style of French Women, by Catherine Malandrino. The sound of rain, along with an occasional train in the distance, added to the ambiance. Around 3pm the weather cleared and I made my way out.   
Plymouth Coffee Bean is certainly in the running for "cutest coffee shop", and they make a great Chai Latte. With warm beverage in hand, I was getting into the spirit of winter and the beauty of this time of year. I found myself admiring window displays; the greatest of all being Opndohr, specializing in vintage, antique and new. Opulent eye candy at its finest. Owner, Scott Smith is the curator of this glamorous shop and an artisan in his own right. In addition, to the fine array of antiques and simply gorgeous, hard-to-find items, Scott hand-makes brilliantly ornamented miniature houses; using pieces of jewelry, beads, and anything that catches his eye. During the holidays, he also puts up the "Coco Tree", draped with pearl necklaces. Years ago, a customer said it reminded them of Coco Chanel, so Scott has called it Coco ever since.
Another lively space I came across was Bohemian Home, a fun, eclectic gift shop. Specializing in candles designed in-house, BH offers a variety of scents, many named after Plymouth and Michigan locations (Penniman, Old Village, The Merry Mitten, We Call It Pop). The little shop is also popular for vegan handbags and ornate purse straps. 
And, so it went; one cute shop after the other, an inviting town square, even a brilliantly lit movie theater marquee. Plymouth is such an adorable town. So much so, I felt it was time for a drink (and, some fish-n-chips).
The Sardine Room has many good items on the menu but when I'm there I always wind up ordering fish and chips. Large, meaty, battered, cod fillets – crispy,  yet, somehow, not greasy – with hand cut fries, slaw and remoulade; what's not to love? Paired with a glass of Bubbly and you have the perfect meal! 
Another soak in the deep tub was crucial after my chilled walk home. Wrapped again in a plush robe provided by the Inn, I discovered a notepad of thick textured Italian stationary, along with a heavy weighted pen. Robyn's Inn really thinks of every little detail. I poured a glass of CabFranc and pursued a bit of writing.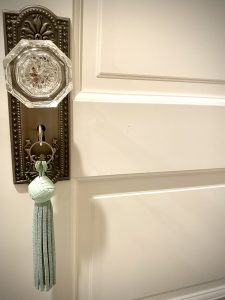 In the morning, I awoke in a bed of cloud soft pillows. But, soon realised it was checkout day – the end of my stay. Before my leave, however, I would enjoy one more delightful breakfast. 
Perhaps, it's the timeless beauty of Robyn's Inn that seems to slow things down. Certainly, the Suite and luxurious amenities were what my body, mind, and spirit were needing. It's important that we take a step away to focus on one's self – particularly, during a complex period with which we have all been faced – and, this Bed and Breakfast more than provided me with that means of rejuvenation.
Robyn and Nancy Baidas are gracious hosts, with exceptional skills in design and hospitality. And, their Inn, which is handled with love and care, is what makes travel of this nature such a joy. Open year round, Robyn's Inn changes with the seasons, offers seating on its wrap around porch, private balconies, and the option of breakfast served out of doors in a lovely little courtyard.
Whether you're traveling near or far, seeking refuge from winter, or celebrating the rebirth that comes with spring, Robyn's Inn is well worth the journey.
Directory 
Robyn's Inn – 932 Penniman Avenue Plymouth, MI robynsinn.com 734-667-3343
Kemnitz Fine Candies – 896 W. Ann Arbor Trail 734-453-0480
Nico & Vali – 744 Wing St. 734-207-7880 nicoandvali.com
Plymouth Coffee Bean Co – 844 Penniman Ave. plymouthcoffeebean.com 734-454-0178  
Opndohr – 470 Forest Ave. Ste.1 734-455-5531
Bohemian Home – 427 Forest Ave. bohoplymouth.com 734-737-0095
The Sardine Room – 340 S. Main St. thesardineroom.com 734-416-02